New Adjunct Faculty Website, Other Improvements Announced
Oct. 6, 2015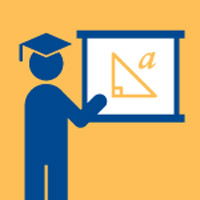 ST. LOUIS - Webster University has launched a website for adjunct faculty and is instituting other changes designed to help enhance the adjunct faculty teaching experience. The changes were announced in a letter that was sent to all adjunct faculty in the past week.
"Last spring, we made a commitment to you that we would look closely at the adjunct experience at Webster University and explore opportunities for enhancements," says the letter, which was signed by President Elizabeth (Beth) J. Stroble and Julian Schuster, Webster's provost, senior vice president and chief operating officer.  
"We convened several meetings over the course of the summer. During these sessions, our primary objective was to listen and better understand what we are doing well and where improvements can be made. These meetings were extremely informative and provided direction as we moved forward."
Among the changes announced for adjunct faculty:
The website www.websteradjunctinfo.org includes information about University policies, comprehensive resources for adjunct faculty, and a "frequently asked questions" section. The website will continue to grow as faculty questions are answered and more resources and information are added.
Changes have been made to the parking regulations so adjunct faculty only have to pay for parking during semesters when they work at Webster University and no longer will have to buy a year-long pass. Visit the Department of Public Safety for more information.
Several offices and meeting spaces are being created for use by adjunct faculty. Already, an adjunct faculty office is being set up in the Sverdrup Building. The office includes desks, printers, lockers, a meeting table, and a second office where adjunct faculty can meet with students or hold private meetings. Updates on additional rooms will be shared in Webster Today and through the deans' offices when the work progresses.
The Faculty Development Center (FDC) is working diligently to identify and facilitate professional development and enrichment opportunities for all Webster University faculty – including adjuncts. Already, the FDC has made arrangements for St. Louis-based full-time and part-time faculty to attend regional teaching conferences, which are taking place in October and November. Please contact Erik Palmore at palmoreri@webster.edu for more information.
The administration has hired Towers Watson, a national consulting firm, to conduct focus groups with adjunct faculty this month to identify other ways that Webster University can better support the adjunct faculty. Towers Watson will reach out to randomly-selected adjunct faculty this month.
As the University continues to work with adjunct faculty, more changes will be announced. Watch Webster Today for future updates.
tags:  academics, employee news, faculty, provost, president, webster today,
News by Topic
Tag Categories
News by Topic
Tag Categories