City of St. Louis Honors Bernie Hayes
Dec. 11, 2015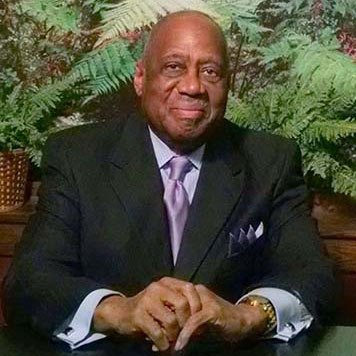 Friday, December 11, 2015 is "Bernie Hayes Day" at St. Louis City Hall. At a 9:30 a.m. ceremony in the Board of Alderman Chambers, Hayes will be recognized for more than 30 years of service to the St. Louis community.


"I've known Bernie Hayes for more than 30 years. You can call him up, and he's always ready to help. No matter how big or how small the project, he's there to help. I appreciate that," said 6th ward committee woman and executive director of the Southside Wellness Center Ollie M. Stewart.
Stewart is happy to be able to honor Hayes in this way and to "thank him for his dedication and his many contributions to St. Louis, especially to seniors and to the under-served."
"I'm driven by the need to provide services to poor people and the need to direct them to agencies and healthcare providers that they so desperately need and deserve. Information is the key to their survival," Hayes said about his volunteer efforts.
In addition to volunteering, Hayes is a professor in the School of Communications (SOC) at Webster University where he has taught courses in cultural diversity for more than 20 years.
"It doesn't matter how I look at it – as dean of the School of Communications, student of media history, or citizen of St. Louis, Bernie Hayes is a treasure," said Dean Eric Rothenbuhler.
Chair of the Communications and Journalism department in Webster's SOC Gary Ford said, "Bernie Hayes has been inspiring and informing Webster students for years; they love him. He has the ability to help them see complicated issues from multiple perspectives. He brings a positive point of view about humanity and the human condition."
Bernie Hayes' career as a print and broadcast journalist, radio and television announcer, and recording artist and record producer has spanned more than 60 years. He has worked in Columbus, Mississippi, New York, New York, Chicago, and San Francisco. He has received more than 800 awards.
He is a veteran of the U.S. Air Force where he began his career as a radio announcer. In 1955, he became a disc jockey. Despite having a degree in journalism, he could not find work; few people would hire a black man as a journalist at that time. In 1980, Hayes started the first black radio talk show in the St. Louis area.
He has held executive positions at several St. Louis radio stations as well as regional executive positions for MCA and ABC Record Companies. He has been a recording artist and an actor on stage and screen. He has also been the local outreach coordinator for the Independent Television Service (a subsidiary of the Corporation for Public Broadcasting).
He has been inducted into the Wendell Phillips High School Hall of Fame; the Greater St. Louis Association of Black Journalists Hall of Fame; the St. Louis Radio Hall of Fame; the St. Louis Black Radio Hall of Fame; and the Stax Record Company Hall of Fame.
He is host of the "Bernie Hayes Show," a television program featuring interviews and current affairs, and he is a columnist for the St. Louis American, the nation's leading African American weekly newspaper. He is also the author of "The Death of Black Radio," a history of Blacks in the broadcast and music industry. He is married to Uvee Hayes, a psychological examiner in the St. Louis Public Schools and a nationally and internationally recognized and respected recording artist.
Hayes is the founder of the St. Louis Black Radio Hall of Fame. Its mission is "to honor and commemorate the achievements, contributions, and triumphs of 'Soul Radio" and the many African American personalities that contributed so much to the industry."
tags:  academics, faculty, home page, school of communications, webster today,
News by Topic
Tag Categories
News by Topic
Tag Categories