School of Communications Hosts Career Series with Professionals, Alumni Oct. 27-29
Oct. 26, 2015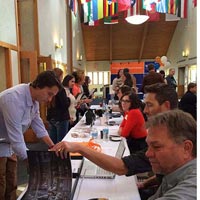 This week the School of Communications presents the Communications Career Series Tuesday, Oct. 27-29. Building on the strength of the already-successful annual Internship Expo, the Communications Career Series has been expanded to three days. Events include a panel discussion, visiting alumni and experts speaking in prearranged classes, and a variety of activities to help students prepare for and to do well in their internship and job searches.
Dean Eric Rothenbuhler often speaks about how communication professions are changing. He tells incoming freshmen they're preparing for jobs that do not yet exist. He reminds students at graduation of the skills they've learned to help them succeed in a field with rapid and constant changes.
The Communications Career Series is an attempt to address those changes head on.
"Events will highlight changing skill sets, job descriptions, and job structures, as well as the need for entrepreneurship in communication professionals," he said. "The expanded format is intended to generate a larger conversation throughout the School about how to better prepare students for success," said Rothenbuhler.
The series kicks off with a panel of industry professionals discussing Changing Communication Careers on Tuesday, Oct. 27, in the East Academic Building, room 253. Industry leaders and alumni will discuss new career opportunities and how the communication industry is changing.
Learn more about that panel and the rest of the events in the series in this story at the School of Communications site.
tags:  academics, alumni, faculty, school of communications, career planning and development center, webster life, webster today,
News by Topic
Tag Categories
News by Topic
Tag Categories