Oct. 8-10: BFA dance concert 'Evert'
Oct. 1, 2015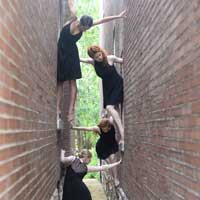 This year's Bachelor of Fine Arts candidates Shannon Haubrich, Cheyenne Phillips, Lauren Sandberg and Morgan Smith, come together for the creation of "Evert", an eclectic choreographic dance concert. As a capstone project, BFA candidates are required to choreograph multiple works for a collaborative concert with their peers, and successfully complete all aspects of production including costuming, lighting, public relations and marketing.
"Evert" runs Oct. 8-9 at 7:30 p.m., and Oct. 10 at 2 p.m. on Stage III, located in the lower-level of Webster Hall. Admission to the concert for Webster University students and faculty is free, and $3 for general admission. Call the Fine Arts Hotline at (314) 968-7128 for ticket reservation. Tickets will not be available at the door.                                                                                                   
BFA concerts are held each year, choreographed and performed by the students and produced on the University's Stage III Theatre.
About "Evert"

In an interview, senior dance major Haubrich, explained how the work of "Evert" sets apart from the other annual concerts the Webster University Dance Department holds. "Webster University's Department of Dance stages numerous concerts annually, showcasing the brilliance and artistry of its' students, professors and guest artists," said Haubrich. "This year's BFA concert, "Evert", highlights the culminating efforts of four graduating seniors in the department. The term 'evert' means to turn outward or inside out, and the concert does just that. The students and choreographers involved will present dance art that takes ideas, twists them through and around movement, and provides the audience with an intimate look at the result."

The BFA candidates began their choreographic process at the beginning of the summer and held auditions for their pieces on the first Wednesday of the fall semester.

When asked about her BFA journey so far, Phillips said, "During the summer, I found it difficult to make decisions regarding my work's content. I tend to work around certain aesthetics that are based upon the bodies in the room; so, when I tried envisioning the elements and movement of an uncasted piece, I struggled. Although the creation of this concert becomes frustrating at times and presents new obstacles everyday, there is something extremely rewarding about the rehearsal process that makes it all worth it."

When asked about which piece she was most excited about, Smith--who transferred to Webster University in the fall of 2014--answered, "I think I am the most excited about the creation of my duet", which is inspired by the plays of Antony, Cleopatra and Macbeth." Smith's training is heavily influenced by theatre, which she truly enjoys, and plays a predominant role her choreography and work throughout this concert's process.

 While these students are uniting for the creation of "Evert", each individual has their own unique choreographic style and way of moving.

Sandberg, originally from Lexington, Kentucky, has trained in a variety of disciplines and participated in an array of workshops and intensives over the years. "Cheyenne, Morgan, Shannon and I come from very different backgrounds and are very divergent moving artists," said Sandberg. "I believe the audiences will see this expressed in our works, providing them with a variety of movement and music to experience. Some of the works created come from very personal places, but we hope each audience member sees a piece of themselves in the concert and relates in some way."

For additional information regarding the concert, contact the Department of Dance at dance@webster.edu.



tags:  academics, webster today, department of dance,
News by Topic
Tag Categories
News by Topic
Tag Categories