Global MA in International Relations grads reflect on year of growth
Jul. 24, 2015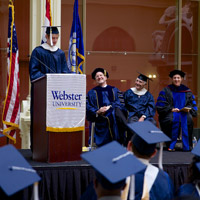 They came to Webster from eight different states. They were the first class to say they studied in Havana, Cuba. Together they bring the number of program alumni to 225.
They are the ninth graduating class of Webster University's unique Global MA in International Relations.
In a ceremony at the Old Post Office building in Webster's Gateway campus in downtown St. Louis, 85 people including graduates, faculty and family gathered to celebrate their completion of a worldwide academic journey.
Cohorts from this year's program studied in Bangkok, Havana, Leiden, London, Vienna and Washington, D.C. (Each cohort has a different rotation, so they don't all study at every location.) While in St. Louis, they reflected on their experience and how it has changed them.
At the Gateway campus event, the students heard from Ambassador George Herbert Walker III as guest speaker, while Joshua Lange delivered the student address to his fellow classmates.
"Life will present you only a certain number of opportunities, and it's important to take advantage of as many as you can," Lange said. "For you never know when or if that opportunity will come around again. I knew in my gut that if I had let this program pass me by I would end up regretting it. This past year has taught me how to make the most of my opportunities. I will take the lessons I've learned this past year and hopefully do some good in the world."
Lange and others spoke of the program as both a singular opportunity in their lives as well as a major challenge that led to personal and intellectual growth. Along with rigorous academic demands, they took away experiences in several of the world's major international relations capitals guided by outstanding professors.
"Throughout this past year, I've not only grown as a student but as a person," Lange said. "This program has given me, and I'm sure my fellow graduates, the confidence to be able to go anywhere in the world and know I'll be fine."
In the video below, hear in their own words how the Global MA students selected this program and what they experienced over the past year at Webster.
And on the lighter side: How many miles do you think you traveled?
Learn about the Global MA in International Relations here.
tags:  academics, alumni, college of arts and sciences, webster life, webster today, international relations,
News by Topic
Tag Categories
News by Topic
Tag Categories