Webster University Adds New Undergraduate and Graduate Programs
May. 20, 2015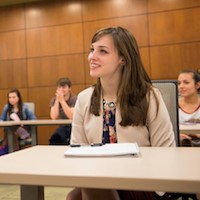 ST. LOUIS (MAY 20, 2015) - From the latest in biotechnology and new media production to mastering the art of leading organizations through change, Webster University is launching a diverse selection of new programs as it enters its second century. The three undergraduate programs and six graduate degrees, all of which will be available for the Fall 2015 semester, are designed as market-responsive answers to student needs.
"Webster strives to offer programs to meet the needs of our students," said Vice Provost Nancy Hellerud, who oversees academic affairs at Webster University. "We've looked at Webster's strengths while also considering the skills and competencies needed in various industries and feel that these new programs will equip graduates to excel in their chosen fields."

The new undergraduate degrees are:
Bachelor of Science in Computational Biology: This degree will prepare students for careers in bioinformatics. Computational biology combines coursework in biology, chemistry, math and computer science to help students develop foundational scientific knowledge and the ability to use new technologies in analyzing scientific data.

Bachelor of Music in Songwriting: This degree combines aspects of audio production, music composition, lyric-writing and popular music styles within a performance-based conservatory-style music degree.

Minor in Mobile Computing: This 18-credit hour minor in mobile computing will allow students to demonstrate critical thinking skills in the field of mobile computing and demonstrate an understanding of the concepts and principles of mobile software systems.

The new graduate degrees are:

Master of Arts in Change Leadership: Change leadership is a new field for managers and requires the development of theory, skills and professional frameworks that will allow them to adapt to changes and manage challenges in the workplace. Read more about Change Leadership offerings here.
Master of Arts in Human Services: This degree prepares students for careers improving human service delivery systems – which include education, health and social services – and enacting positive changes through leadership in the social services field.

Master of Arts in New Media Production: This degree will help students master the creative and technical skills they need in today's dynamic multimedia environment. Using the latest tools, tactics and techniques, students will be able to sharpen production skills and produce attention-grabbing content. Read more about New Media Production here.

Master of Science in Science Management and Leadership: Today, the scientific community needs leaders who can have communication skills and technical knowledge. Webster University's Science Management and Leadership programs help students and professionals find advancement in their fields.

Master of Arts in Teaching in Special Education: Improvements that have allowed learning disabilities to be diagnosed at earlier ages have created an increased demand for qualified special education instructors. This degree provides the foundation for teacher preparation leading to initial Missouri teacher certification in Special Education: Cross-Categorical.

Webster will also begin offering a Doctorate in Education degree in the School of Education. Webster University's Doctor of Education (Ed.D) in Transformative Learning in the Global Community is an interdisciplinary, scholarship- and research-oriented program, which invites a broad range of educational professionals to enter into a genre of transformative learning to expand their knowledge and beliefs about learning and teaching. This program develops scholars and leaders with globally- and socially-conscious perspectives through the study of the philosophies, history and theory of education systems (global, social, and psychological); their practical and ethical applications and global service learning practicums.

For more information on any of these degree programs, contact the admissions department at admit@webster.edu or 1-800-753-6765.
tags:  academics, featured, webster life, college of arts and sciences, school of business and technology, school of communications, school of education, college of fine arts, online learning, extended campus, announcement, webster today,
News by Topic
Tag Categories
News by Topic
Tag Categories