Tamashiro Embarks on Peace Pilgrimage
Jul. 28, 2015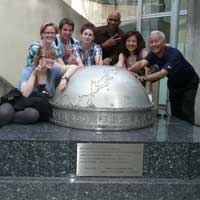 ST. LOUIS (JULY 28, 2015) - Webster University professor Roy Tamashiro has embarked on a "coming-full-circle" peace pilgrimage across the United States and Asia to commemorate 70 years after the Hiroshima and Nagasaki atomic bombings. He will be giving lectures and workshops, as well as tribute services across the United States and in Japan, South Korea, and Nepal.
Tamashiro's pilgrimage also marks the 50th anniversary of his first visit to Hiroshima, which catalyzed his life work in peace research. His work has included the oral history of Hiroshima A-bomb witnesses (hibakusha), the role of peace museums, and the psychology of transformative learning and peace consciousness.
 "Whenever I visit Hiroshima, I can feel the presence of the spirits and souls of those who perished and suffered there. I feel their suffering, their pain and their cries. But their voices also contain peace and hope," Tamashiro said. "They thank me for coming to Hiroshima, and remembering them. Hiroshima is now a sacred place, hallowed ground, from which the spirit of peace and compassion for the future of humanity gloriously emanates. When I discuss this feeling with people in Hiroshima they resonate with me, and ask me to spread this message."
Tamashiro's first stop is July 31 in Humboldt County, California, where he will lead a conversation on "My God, what have we done?: The Nuclear Age & the Rise of Peace Consciousness." Other topics and stops over the next three months include:
"70 Years After Hiroshima & Nagasaki: Emanating the Gift of Peace" (Sunday worship service, Bayside, CA)
"Tribute to Hiroshima: Emanating the Gift of Peace" (70th Anniversary Hiroshima Commemoration Service, Honolulu, HI)
"From Places of Suffering to Sacred Spaces and the Rise of Peace Consciousness" (Public Workshop, Honolulu, HI)
"Peace Museums and the Rise of Peace Consciousness" (Student Workshop, South Korea)
"Peace as Pilgrimage and Awakening" (Expert panel, Wilmington, Ohio)
"In the Footsteps of 2,500 Years of Pilgrims to Buddha's Birthplace, (Pilgrimage to Lumbini, Nepal)
"Transformative Learning for Nuclear Age Consciousness" (Asia-Pacific Peace Research Association Conference Paper, Kathmandu, Nepal)
"Finding Peace, Making Peace, Living Peace: When Personal Change Becomes Societal Change" (Workshop at Ritsumeikan University, Kyoto, Japan)
Tamashiro has conducted other Webster-sponsored projects about the meaning of the 1945 atomic bombs and the development of peace consciousness. He has led Webster classes and student research groups to Japan, which students came to consider as "peace pilgrimages." He produced a historic videoconference / global webcast between the Hiroshima Peace Memorial Museum and the Harry S. Truman Presidential Library and Museum (Independence, MO) in 2010. In 2014, at Tamashiro's nomination, Hiroshima A-bomb survivor Koko Kondo, was selected as Webster University's Commencement speaker and Honorary Degree recipient. Videos of Kondo's visit including her full Commencement speech can be found online at http://www.webster.edu/commencement/speakers/2014.html.
To learn more about Tamashiro's trip, read this newspaper article published in California or see his calendar at http://tinyurl.com/2015PeacePilgrimage
tags:  academics, home page, school of education, webster life, webster today, global,
News by Topic
Tag Categories
News by Topic
Tag Categories