School of Education's Teachers Matter Grant from Boeing Expanded
Oct. 8, 2015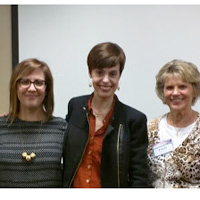 The Webster University School of Education announced that the Teachers Matter grant, which was received last year from Boeing to redesign and embed early field experience in the Master's of Teaching (MAT) certification program course CMAT 5000: Teaching in a Diverse Society, has been approved for another year. 
Stephanie Mahfood, one of the project leaders for the grant, says, "We are so excited to be able to continue and expand the work of the grant and thrilled that Boeing recognizes the importance of our efforts thus far in designing innovative learning opportunities for our candidates that emphasize their roles as creative problem-solvers."
In addition to a continuation of the partnership with The Soulard School in the CMAT 5000 course, some of the funds will be used to pilot an innovative experience during the practicum candidates complete prior to their apprentice teaching. This partnership will allow teacher candidates to work closely with cooperating teachers at the Soulard School at the beginning of the semester on collaborative action research projects that focus on teacher practice and student learning. 
The "Teaching in a Diverse Society" course is designed to immerse MAT students immediately into a creative school environment where they work with practicing teachers and have the opportunity to ask questions, observe and discuss issues that focus on professional dispositions, response to student diversity, methods for engaging families, major curricular and instructional theories as well as methods of assessment.
Presentation of Grant Impact at National Conference
An additional outcome of the grant has been the ability of participants to share its results with the broader, national field of education. School of Education professors Stephanie Mahfood, Basiyr Rodney and Paula Witkowski presented on the Teachers Matter grant at the 2015 National Association for Professional Development Schools Conference in March. The presentation was done in partnership with Sarah Christman, founder and principal of the The Soulard School, and Ann Luciani, who is a Webster MAT graduate and a teacher at The Soulard School. Abigail Allred, an MAT student at Webster in the Secondary Language Arts certification program, also joined the team's presentation.
Read more at Transformational Teaching, the School of Education's blog.
tags:  academics, faculty, school of education, webster life, diversity and inclusion, alumni, advancement,
News by Topic
Tag Categories
News by Topic
Tag Categories