St. Louis Community College and Webster University Offer Dual Admission
Oct. 19, 2015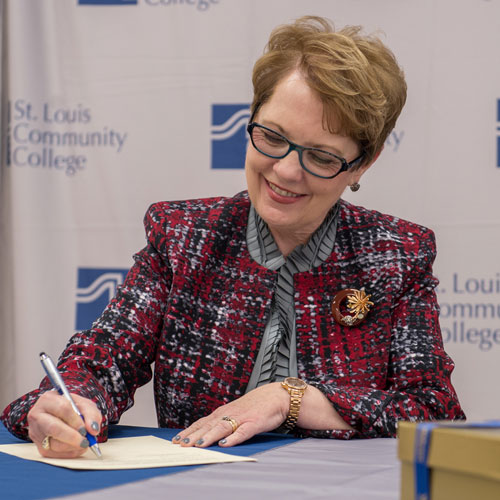 St. Louis Community College and Webster University have signed a dual admission agreement for nursing students at the college. This agreement will make it possible for students to be jointly admitted to STLCC and Webster University and will provide nursing students the opportunity to seamlessly complete a Bachelor of Science in Nursing (BSN) at Webster University.
A landmark report on the future of the nursing profession issued by the Institute of Medicine in 2010 recommended that 80 percent of registered nurses obtain a Bachelor of Science in Nursing by the year 2020. Higher education institutions are therefore likely to see an influx of registered nurses seeking bachelor's degrees in the coming years. 
"This partnership between STLCC and Webster serves not only the needs of nursing students, but also the needs of the evolving healthcare industry," said Jeffery L. Pittman, Ph.D., chancellor at STLCC. "BSN-educated nurses are in greater demand than ever before. Employers are seeking nurses with higher education credentials as the role of nursing expands and becomes increasingly complex." 
The partnership and transfer agreement between STLCC and Webster aims to encourage a smooth transition from STLCC's Associate in Applied Science (AAS) program to Webster's Bachelor of Science degree (BSN) program.  
"Both institutions are making a dedicated effort to improve nursing educational opportunities within the greater St. Louis area," said Jennifer Broeder, associate dean of Webster University's College of Arts and Sciences Division of Professional Programs and chair of the nursing department. "Both STLCC and Webster University are funneling significant resources into nursing instruction, and by partnering on a dual admission agreement, we are creating a synergy that will deliver the skilled nurses that our profession requires."
Students who participate in the program will also have their application fees at Webster University waived, will maximize credit transfer from St. Louis Community College, will gain access to resources at both institutions and may have the opportunity to begin coursework at Webster while completing their nursing program at STLCC.
Established in 1962, St. Louis Community College is the largest community college district in Missouri and one of the largest in the United States. STLCC has four campuses: Florissant Valley, Forest Park, Meramec, and Wildwood. The College annually serves more than 80,000 students through credit courses, continuing education, and workforce development programs. 
With its home campus in St. Louis, Missouri, Webster University (www.webster.edu) is the only Tier 1, private, non-profit U.S.-based university providing a network of international residential campuses and a robust online learning program. Founded in 1915, Webster University's campus network today includes metropolitan, military and corporate locations around the world, as well as traditional campuses in Asia, Europe, North America and Africa. The university is committed to delivering high-quality learning experiences that transform students for global citizenship and individual excellence.
tags:  academics, college of arts and sciences, home page, president, webster today,
News by Topic
Tag Categories
News by Topic
Tag Categories