Advertising Students Win First Place in NSAC Regional Competition
Apr. 20, 2016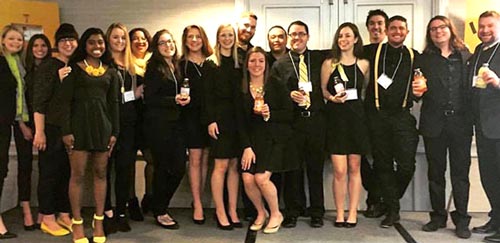 Students in the Webster University School of Communications won first place in the National Student Advertising Competition (NSAC) District 9 regionals.
"The students built a strategically sound and creatively brilliant NSAC campaign. These future professionals are going to take the advertising world by storm," Julie Clark, School of Communications faculty member and one of the coaches for the team at the competition held April 15 in Kansas City, Mo.
Students spend months researching the product and its competition, identifying potential problem areas, and creating an integrated communications campaign for the client. During the competition, student teams pitch their campaigns to judges.
But just getting there is a competition in itself. In Webster's School of Communications, students must audition to get into the class that will become the presentation team.

Their presentations are judged on creative messaging, media plan, strategy and integration, research, measurement and integration, and overall quality.
Learn more about the competition and the winning student presenters in the full story at the School of Communications site.
Congratulate the Winners April 27
The Webster community is invited to congratulate the School of Communications Advertising Competition Team's "Family 'N Friends Presentation" on their winning campaign pitch, Wednesday, April 27, in the University Center Sunnen Lounge.
Doors will open at 6 p.m., and refreshments will be served. 

tags:  academics, faculty, advertising, students, school of communications, webster today,
News by Topic
Tag Categories
News by Topic
Tag Categories