Applied Educational Psychology and Human Trafficking
Apr. 6, 2016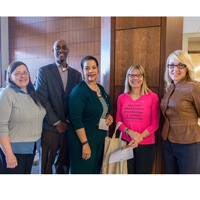 Students and faculty in the Webster University School of Education's Applied Educational Psychology and School Psychology graduate programs are educating themselves about human trafficking, children's rights and schools.
As described by school psychologist and author Stuart Hart, "The primary purpose of the profession of school psychology is to improve the development and quality of life of children… Psychology can contribute significantly in many areas to the effectiveness of schools in dealing with child protection from trafficking."
On March 8, Applied Educational Psychology and School Psychology students and faculty attended a workshop, "Human Trafficking in America's Schools," sponsored by U.S. Rep. Ann Wagner and the U.S. Department of Education. On March 19 they attended, "Human Trafficking Panel and Workshop," sponsored by Webster University and the Archway Chapter of Links, Inc.
After attending workshops and further study, students and faculty are planning to share their new knowledge in an international newsletter for school and educational psychologists. The main author for this newsletter article is Centron Felder, a graduate student in the program.
Pictured above: Students Jennifer Pierce and Centron Felder, Susan Buford (president of Archway Chapter of Links), professor Debbie Stiles and student Kelly Brunner. Not pictured are student Patrick McGuirk and  visiting professor Ruth Schumacher Martinez. 
tags:  academics, school of education, applied educational psychology, students, webster today,
News by Topic
Tag Categories
News by Topic
Tag Categories