BFA Choreographic Concert 'Shedding': Oct. 6-8
Sep. 28, 2016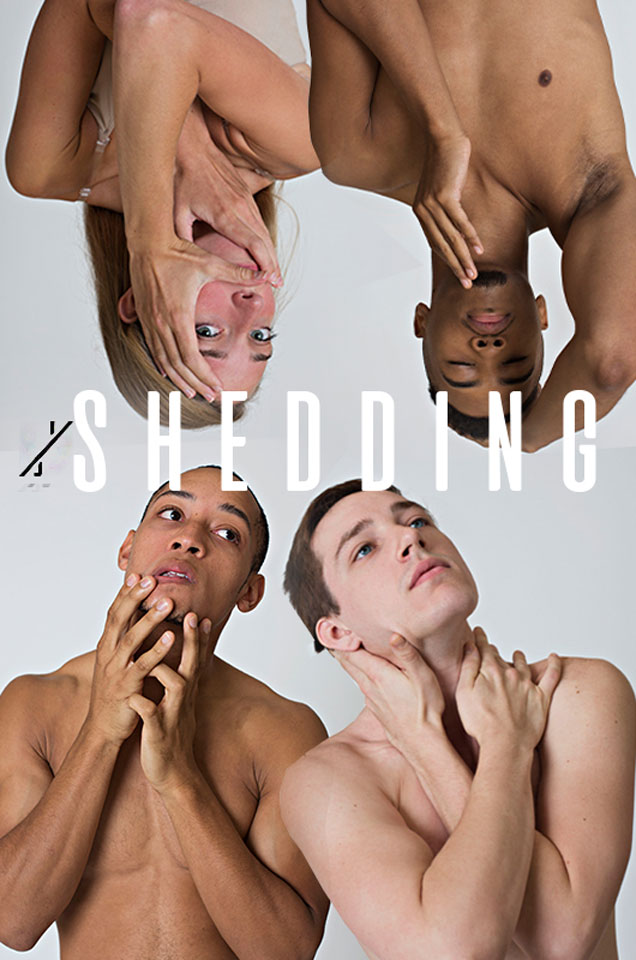 Webster University's Leigh Gerdine College of Fine Arts Department of Dance presents Shedding. The concert showcases the original choreography of senior BFA Dance candidates: Camaron Ballard, DJ Duncan, Jacob Henss, and Molly Ryan. Shedding runs Oct. 6 and 7 at 7:30 p.m., and Oct. 8 at 2 p.m. The performance is located in Stage III, the lower level of Webster Hall, 470 E. Lockwood Ave.The concert is free and open to the public, though donations are accepted.
Camaron Ballard states, "I want my work to be a culmination of my journey here at Webster University. In addition to this idea, it is also an exploration of vulnerability and stability for us as people – not just dancing bodies."
Ballard, a native of St. Louis, Missouri, began his dance training in high school under Heidi Morgan. Outside of Webster, he has had the privilege of working with artists Clifton Brown, Antonio and Kirven Douthit-Boyd, and Dance Theatre of Harlem's resident choreographer Robert Garland. Camaron is a member of Kode Redd, a hip-hop company that is run and directed by Anthony 'Redd' Williams.
"My work strives to be authentic in both construction and delivery," says choreographer DJ Duncan. "It so desperately needs and wants to display its connection to an alternate state of existing. It's unapologetically dream-like, coming in and out of time while being undeniably present."  
Duncan, originally from Southern Illinois, began his dance experience at "Touch of Class Dance Studio." His training outside Webster includes Hubbard Street Dance Chicago, Nederlands Dans Theatre, and Dawson Dance. In addition to performing as part of the Webster University Dance Ensemble, Duncan has also performed with "dawsondancesf," and Kameron Saunders.
Jacob Henss' explains, "My piece for the BFA concert explores dance theatre and the personal realm of marriage and identity. The piece's culmination of intimacy, athleticism, and sexuality allow it to stand alone as further investigation for the dance theatre genre."
Henss is from the small town of Trenton, Illinois, but began his dance training at Mckendree University and Avidity Independent. From there, he transferred to Webster University to finish his BA in Music and also obtain a BA in Dance. His dance training includes Mckendree University, Kansas City Ballet, Coalescence Dance Company, and the Department of Dance at Webster University.
Molly Ryan's choreography aims to bring the classic Frank L. Baum novel, Ozma of Oz, to life through ballet. Her piece, "Emeraldized," "values the beauty and technique of classical ballet while focusing on storytelling through movement, gestures, and character development. It is a display of ballet grandeur that hopes to take the audience on a journey to a new world." 
Molly Ryan, a native of St. Louis, Missouri, began her dance training with the Lucille Rapp Dance Studio, Incorporated. In addition to training with Webster, Ryan trained with the Kansas City Ballet and St. Louis Ballet. She performed in the Dancing in the Streets Festival and the American College Dance Association Regional Conferences, as well as the Webster University Dance Ensemble.   
For further information, call the Fine Arts Hotline at (314) 968-7128. For more information on the Department of Dance: call 314-246-7747, email dance@webster.edu, or visit the department website at www.webster.edu/dance.
tags:  academics, college of fine arts, webster life, webster today,
News by Topic
Tag Categories
News by Topic
Tag Categories