Brewer Returns for Annual Public Talk and Master Class
Oct. 3, 2016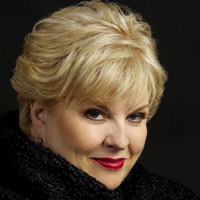 Christine Brewer, one of the world's great operatic sopranos and a visiting professor in the Department of Music, opens with a public talk on Monday, Oct. 3, at 7 p.m.
"We expect Christine to address how she prepares new roles, repeat roles, and song repertoire," says Jeffrey Carter, chair of the Department of Music. "Christine recently revisited a role that written for her, in the opera Doubt. She will likely talk about how it was to revisit a role, what it was like to work with the composer and librettist for several weeks, how different productions brought out new feelings and realizations."
The Monday talk will be held at Thompson Music Building, 8282 Big Bend Blvd., and is open to all at no charge. Students will work directly with Brewer on Tuesday, Oct. 4, at 7.30 p.m. in the Community Music School concert hall, 535 Garden Ave. The annual advanced master class is a benefit for the James Moroney Nigh Opera Scholarship Fund, with tickets costing $10 at the door.
"Christine is an old friend of our program," said director of vocal studies Martha J. Hart. "She raises the bar for our students, who jump at the chance to meet expectations and work with her."
Grammy Award-winning American soprano Christine Brewer is a resident of Lebanon, Illinois. Her appearances in opera, concert, and recital are marked by her own unique timbre, at once warm and brilliant, combined with a vibrant personality and emotional honesty reminiscent of the great sopranos of the past. Named one of the top 20 sopranos of all time (BBC Music), her range, golden tone, boundless power, and control make her a favorite of the stage and a highly sought-after recording artist. A philanthropist and humanitarian, Brewer is increasingly turning to where she began her career, in teaching and guiding young singers in finding their voice.
Brewer returns for a weeklong residency March 6-10, 2017.
tags:  academics, department of music, college of fine arts, webster life, webster today,
News by Topic
Tag Categories
News by Topic
Tag Categories