Gateway Student Follows Dreams of Justice
Apr. 19, 2016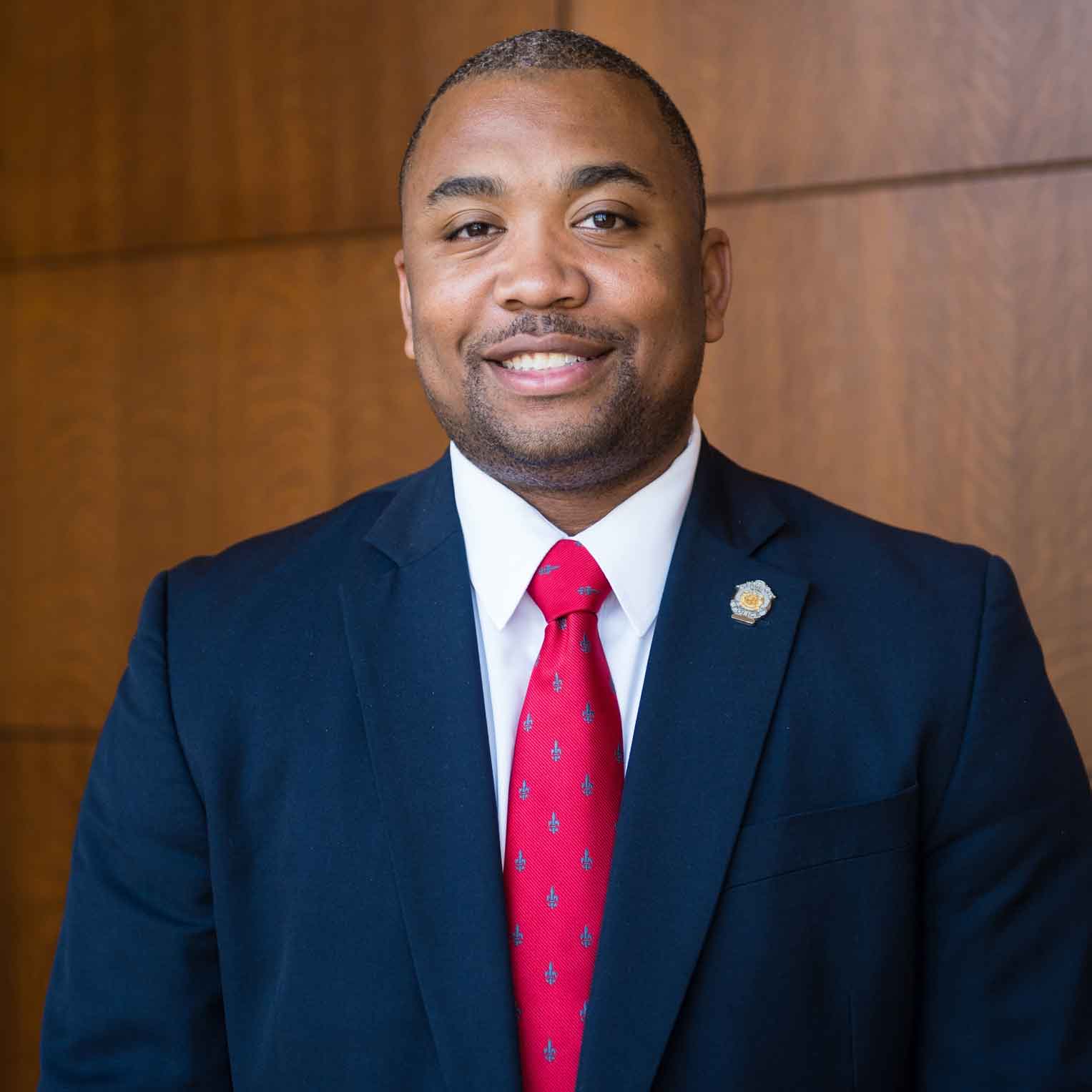 ST. LOUIS - Carl Cunningham believes in law and order.
"It's a calling," said Cunningham, a police sergeant and 10-year veteran of the St. Louis Police Department. Born and raised in the city, Cunningham is assigned to protect Mayor Francis Slay.
But lately, that desire to work in law enforcement has taken a new turn. During the past year, he has spent his nights at Webster University's Gateway Campus in downtown St. Louis as a student in the Legal Studies graduate program.
He hopes the degree will further his career and possibly even open new paths for him.
"As far back as I can remember in my childhood, all I've ever wanted to be is a police officer. I remember my father used to be a security officer for a local university, and I used to just gaze in amazement at his uniform as a child," Cunningham said. "I think this had a significant impact on my desire. I wanted that uniform."
After high school, he joined the Army Reserves, which he is still enlisted today. He later completed his bachelors degree in Criminal Justice at Lindenwood University. "Even as an undergraduate, I realized that my passion for the law was becoming more intense and that I may want to practice it on a more in-depth level, possibly even law school," he said.
After graduating basic training in the army, he joined the police force, a job that he loves, he said. It allows him to interact with a diversity of its citizenry and has helped him appreciate St. Louis even more, he said. Being assigned to the mayor's security detail was an honor, but it keeps him very busy in the day.
Then he learned that Webster University's Gateway Campus in downtown St. Louis has a legal studies program.
"The legal Studies program at Webster University, in my opinion, offers me the opportunity to gauge a more in-depth legal learning experience to help me decide if I am ultimately ready to pursue a Law School endeavor," Cunningham said.
If he does pursue a law degree, he hopes to apply it to his job in the Police Department. But if he decides that law school is not for him, he still believes the Webster program has enhanced his skills.
"This degree program has absolutely helped to make me a better officer. It provides a more in-depth understanding of not only what we do, but also the background information and the 'why' we do them," Cunningham said. "I would definitely recommend this program to any current or potential law enforcement officers. I further believe that this program will provide me a better basic understanding of the knowledge I will need for the topics discussed in law school, which will help me progress to my next chapter in life. Whatever that may be."
For more information about the Legal Studies Program or any other program offered at the Gateway Campus, visit www.webster.edu/gateway.
tags:  academics, college of arts and sciences, extended campus, gateway campus, home page, webster today,
News by Topic
Tag Categories
News by Topic
Tag Categories