Students Take Part in Challenger Future Educators Program
Feb. 2, 2016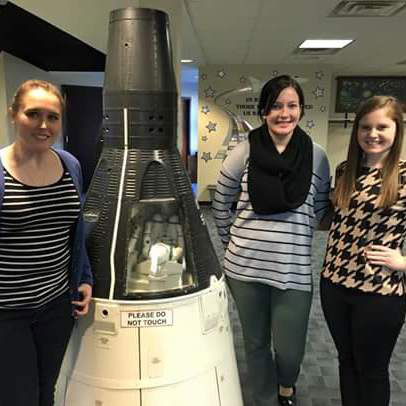 ST. LOUIS – Five School of Education students represented Webster University in the Challenger Future Educators program on January 28. This event was organized by the Challenger Learning Center of St. Louis.

The Challenger Learning Center-St. Louis is part of the Challenger Center for Space Science Education, an international not-for-profit education organization founded in April 1986 by the families of the astronauts tragically lost during the Challenger space shuttle mission. The St. Louis location is part of a growing network of approximately 50 Challenger Learning Centers located throughout the world and serves groups throughout the greater St. Louis region.

Erin Rasmussen, Amber Sinamon, Erin Staengel, Ryan Gibbs and Cassie Trueman participated in the event with other future educators from around St. Louis.

"The first portion of the professional development day involved participating in a simulated space mission that the Challenger Learning Center offers to visitors," said Rasmussen. "We then had the opportunity to go through the simulated experience alongside a class of sixth grade students. The class was from Airport Elementary School in the Ferguson-Florissant School District. Each Challenger Future Educator signed up for a task related to the simulation roles such as Life Support, Navigation, Probe, or Research. No one in this professional development group had ever participated in the simulation, and we had fun experiencing the activity alongside the students."

Victoria McMullen, professor and department chair of teacher education, nominated Rasmussen and the others to participate in the event and said events like this are important for Webster University.

"STEM is an important area of study for our students and it will be an important area of student for their students once they are in the classrooms," said McMullen. 
tags:  academics, school of education, webster today,
News by Topic
Tag Categories
News by Topic
Tag Categories