Hands-On Lessons for Navigating Change
Feb. 17, 2016
ST. LOUIS – The Rockwood Drug-Free Coalition in the Rockwood School District provides leadership, education and resources to prevent substance abuse among youth. The Coalition works with a number of volunteers throughout the area including those in education, law enforcement, business, healthcare, religious organizations, local government leaders, parents and students – and they do this all with just one full-time paid employee. So when the director of the organization had to leave their position – and the interim director was planning to relocate out of the area, the Coalition needed help navigating the change.

Fortunately, graduate students in the Walker School of Business & Technology were available to help them seamlessly transition through the changes.

"In our Change Leadership certificate and Master's program, we are committed to providing our students with real world opportunities to apply what they are learning," said Rebecca Ellis, instructor of the Change Leader Expertise for Business Results course. "By working with non-profit organizations, we are able to do just that – allowing our students to practice and demonstrate their expertise while providing a free service to organizations in need."

Laurie Gunderson is serving as the Interim Director for the Rockwood Drug-Free Coalition. She began working in this position at the beginning of February after Renee Heney, the previous director, left the organization. Gunderson will be working as interim director of the Coalition until a new full-time director is hired. She said that the students have been helpful throughout this challenging time for the organization.

"When I met the Webster students the first time, they knew how to ask insightful, probing, intelligent questions without giving advice or passing judgment and those questions helped me to step back and reflect on the larger issues facing our organization," said Gunderson. "In that way, the students led me from worrying about "how will we function without Renee" to refocusing on our vital mission.  They helped me make that important leap quickly and efficiently." 

Ellis said that the initial conversations are an important first step of change management.

"We met with Laurie Gunderson, to talk through the challenges and opportunities faced by the Rockwood Drug-Free Coalition," said Ellis. "Based on those initial conversations, we have developed interview questions to ask the Coalition Executive Committee members and other key stakeholders. We'll compile the interview data in the next couple of weeks and share it back with the Exec team. Then we'll help them prioritize strategic opportunities and initial actions to close any gaps discovered."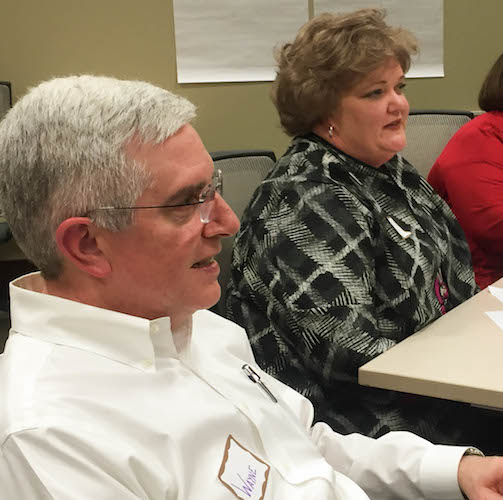 Gunderson has been pleased with the help she's received. 
"These Webster graduate students have had a wide variety of life and work experiences, and their ability to combine what they already know with what they are currently learning in their Change Leadership class made for a powerful and very interactive session," she said. "We are just at the beginning of this process, but already the Coalition is benefiting because they helped me to refocus so I am ready to lead."
Ellis said these sorts of partnerships are not only helpful for the community but valuable for our students.

"Textbook knowledge can only take you so far in this field," Ellis said. "Although we do practice with role playing and case studies in the classroom, change management is not something that can be entirely taught in a classroom. I believe Webster University is unique in weaving these experiences in to the coursework."

Wayne Allen, a graduate student in the course, agreed that these experiences are a benefit to students.

"One of the primary reasons I became a student in the Change Leadership program at Webster was for the unique opportunity this curriculum allows in applying our classroom learning with real life business challenges," said Allen. "We are in a special situation, as students, to go beyond case studies and actually work with an organization that can implement the solution we create with and for them. This type of interaction takes our motivation far beyond the desire to achieve a good grade. It gives us experiences we can draw on long after we complete our course work and graduate from Webster."

"For the students, learning comes to life when they can apply what they are learning to a real organization," said Gunderson. "That hands-on approach can't be beat. For us, receiving consulting services not only from the graduate students but also from experts such as Dr. Ellis is so valuable and unique because of the depth and breadth of the expertise. Then adding in the fact they are providing their services for free is very helpful because every dollar saved in administrative costs is a dollar we can spend on directly helping kids. That's a very big deal."














Although the Change Leadership Expertise course ends in March, the work with the Coalition will continue throughout the semester when the Data-Driven Change Management course takes over in the Spring 2 term and those students will construct more sophisticated survey and measurement tools and take a deeper drive into the priorities and opportunities for the Coalition.
tags:  academics, faculty, home page, school of business and technology, webster today,
News by Topic
Tag Categories
News by Topic
Tag Categories