Connor Scott Selected for ACDA Student Conducting Competition
Mar. 2, 2016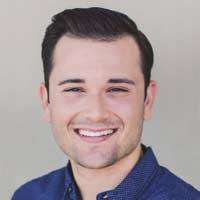 Choral music education student Connor Scott is one of five undergraduate students in the Southwestern Division American Choral Directors Association (SWACDA) regional student conducting competition to be held March 8-9, in Kansas City, Missouri.
American Choral Directors Association (ACDA) is a nonprofit music-education organization whose central purpose is to promote excellence in choral music through performance, composition, publication, research, and teaching. The Southwestern Division is comprised of seven states: Arkansas, Colorado, Kansas, Missouri, New Mexico, Oklahoma and Texas.

"This is truly a big deal" says Jeffrey Carter, chair of the Department of Music. "I managed the ACDA national-level competition for four years. These students are incredibly poised and polished, and represent the brightest of the next generation of conductors."

Scott, a senior from Hillsboro, Missouri, is currently student-teaching in Lee's Summit, Missouri, where his cooperating teacher is Amy Krinke, the current Lee's Summit Teacher of the Year and of the six state finalists for that award in 2015.

The SWACDA competition began with an initial blind review of submission materials by experts from Texas, Kansas, Nebraska, Illinois, and Missouri. Based on that review of video recordings from undergraduate music majors, seven were chosen to compete in the semi-finals, where they will be allowed eight minutes to work with a high school choir on two pieces. No more than three will proceed to the finals on the second day, all as part of the biennial regional SWACDA meeting.

"I'm so honored to be selected to represent Webster in this competition," says Scott. "My Webster education has been incredible, and I would not be at this point without the guidance from Dr. Trent Patterson and so many others." Scott is the only Missourian in the undergraduate or graduate semi-finals. Three other undergraduates are Texans, with one other from Newton, Kansas.

"In a powerhouse choral music education program, and a senior class of stand-outs, Connor is truly exceptional," said Trent Patterson, director of choral studies. "He and his two other senior choral education colleagues are natural leaders, wonderful musicians, and high-calibre ambassadors for what is happening in choral music at Webster." 
Scott is a current Buder Scholar in the Department of Music, and has been a Fossett Scholar, meaning he has received the two highest musical honors in the music department. He currently carries a 4.0 grade point average.
tags:  academics, college of fine arts, department of music, webster today,
News by Topic
Tag Categories
News by Topic
Tag Categories