Student Film Premieres at Chesterfield Theater
Jul. 27, 2016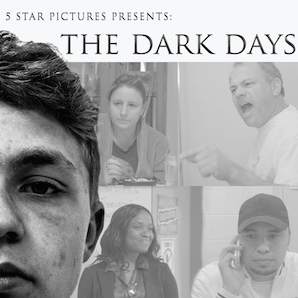 (ST. LOUIS) - David Malone won't be graduating from Webster University until 2018, but he's already hit a pretty big career milestone with the premiere of his film THE DARK DAYS at an area movie theater. The film will premiere at the Chesterfield Galaxy 14 Cine on Wednesday, July 27.

"I had my first premiere at The Galaxy in Chesterfield," said Malone. "So when we were looking for a location for THE DARK DAYS, we reached back to Wehrenberg and asked if they could host the premiere and they agreed."

Malone has worked on the film for more than two years and the story focuses on the heroin addiction of a high school student. The story is inspired by actual events.

"I came up with the idea for the film during a heroin assembly during my junior year of highs school," he said. "While I was listening to the parents talk about the pain and suffering they went though after losing kids, I started to get the idea for THE DARK DAYS. At this time I was still in production of my first film " Hercules: The Brave and The Bold" and one of my actors was telling me about his life and how his parents are divorced and how his dad is an alcoholic. And I asked him if I could have his life inspire THE DARK DAYS, and he said yes. THE DARK DAYS, isn't just inspired by actual events in James' life; but my life as well."

While the work for the film began before Malone came to Webster University, he said that he sees the positive impact of his education."

"My time at Webster has truly made a difference in the way I've been learning about filmmaking and being at Webster has opened many doors and opportunities to work with other students from the audio department and from the film department," said Malone. "Webster is so open and free that when you have an idea, you can go and talk to another filmmaker to be able to make it happen."

A number of other Webster University students helped Malone on the film including, Kyle Mathias, Hamilton Ketchum, Ricky Dorais, Garrison Brown, Paul Roach, Cassandra Isbell, Andrew Bushway, Beth Augustin, Kayla Rodgers, and Collin Ijames.

Malone said that the advice and help he gets from faculty and staff has also been instrumental in his success.

"There are a few professors that I feel have helped and guided me, but out of them all I have to say Scott Dorough has helped me the most," said Malone. "A year ago, Scott became my mentor and has been extremely helpful in securing equipment or answering questions about filmmaking that I didn't know. He's truly been a major asset and is always willing to help. One staff member that has also helped is Louis Lindsay from the Media Center. Louis and I have had multiple conversations about my films or just the film industry. He's always there to talk when I need to talk to someone about problems on a film that I'm working on but he's not only there for you as a student but as a filmmaker."

Malone has three other films in development with his production company. He hopes that those who see THE DARK DAYS are entertained but also wants them to become aware of the problems with illegal drug use.

"I want the film to make an impact and to inspire people," he said. "But I also want the film to also show people the consequences of what happens when you do drugs, and hopefully when someone sees this; it helps them to make a better decision."

THE DARK DAYS premieres at Chesterfield Galaxy 10 at 6:15 p.m.
tags:  academics, school of communications, webster life, webster today,
News by Topic
Tag Categories
News by Topic
Tag Categories