Graduate Programs Top Diversity List for 25th Consecutive Year
Aug. 29, 2016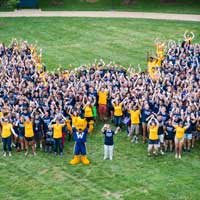 ST. LOUIS – Webster University's graduate programs were ranked as awarding graduate degrees to the most diverse degree-seeking student population in the United States among non-profit private and public colleges and universities, and for having the most diverse graduate student population in the state of Missouri, by Diverse Issues in Higher Education (DIHE). DIHE's "Top 100 Degree Producers" survey for 2016 is the only national report of graduate degrees earned by African American, Hispanic, Asian American and Native American students by U.S. colleges and universities.
This is the 25th year that DIHE has published their report, and Webster has consistently achieved top rankings in the survey since it was first published in 1991. Nearly 51 percent of all Webster students completing a graduate degree last year self-identified as a minority ethnicity. The complete DIHE "Top 100" survey can be found online at http://diverseeducation.com/top100/ or in the Aug. 25 issue of DIHE.
"It is a testament to Webster University's enduring commitment to student success that Webster has topped this annual survey for 25 years in a row," said Elizabeth (Beth) J. Stroble, president of the University. "Our integrated programs of support for an intentionally diverse student body evolve to meet their needs and to stay true to our mission of meeting unmet needs.  We take pride in our students' accomplishments, and we are honored to be recognized as leaders in helping to assure their success."
This year, Webster ranked:
First among traditional private non-profit and public universities in all minority graduate degrees conferred, and fourth overall for all universities and colleges (including for-profits)
First in African American master's degrees nationally among private non-profit and public institutions, and fourth overall for all universities (including for-profits)
First for graduate degrees conferred to African American, Native American, Hispanic/Latino and Asian American students for all higher-education institutions in Missouri
The only Missouri institution to be listed in the top 100 for Hispanic/Latino students
The only Missouri institution to be listed in the top 100 for the "Total Minority Masters" category.
"In order to have a holistic education, it is imperative that the dialogue in the classroom and on campus includes many viewpoints and voices, not just the views of a majority" said Nicole Roach, associate vice president of Diversity and Inclusion. "Webster University understands that exposure to diversity is key but having opportunities for individuals to contribute supports our mission of inclusive excellence."
"To succeed in an increasingly global world, we must build and grow a strong culture of diversity and inclusion," said Julian Schuster, Webster's provost, senior vice president and chief operating officer. "The fact that Webster University has topped this list for a quarter of a century is a living testimony of Webster's unequivocal commitment to its values. The implementation of the strategic plan 'Global Impact in the Next Century' will further enhance our dedicated efforts of building divers and inclusive environments throughout the world."
The survey used data provided by the U.S. Department of Education's National Center for Education Statistics collected for the 2014-2015 year. The survey only looked at degrees awarded and only counted students who are U.S. citizens.
For the past five years, U.S. News & World Report ranked Webster University among the most economically diverse universities in the country. This ranking cites the high percentage of students receive Pell Grants, indicating they come from households that make less than $20,000 per year. According to the most current U.S. News rankings, 49 percent of the undergraduate students at Webster receive Pell grants.  
Webster University offers more than 50 scholarships to students from under-represented groups. In August, the University awarded the Donald M. Suggs scholarship to two incoming freshman. The Suggs Scholarship, awarded at Webster since 2013, is designed to increase the recruitment and retention of highly talented undergraduate students who typically are underrepresented at institutions of higher education. Last October, the University and the Rotary Club of St. Louis also awarded college scholarships to 26high school seniors from 13 St. Louis public high schools this summer, most who come from under-represented groups.
With its home campus in St. Louis, Missouri, USA, Webster University (www.webster.edu) comprises an action-oriented global network of faculty, staff, students and alumni who forge powerful bonds with each other and with their communities around the globe. Founded in 1915, Webster is a private non-profit university with more than 17,000 students studying at campus locations in North America, Europe, Asia and Africa and in a robust learning environment online. The university is committed to delivering high-quality learning experiences that transform students for global citizenship and individual excellence.
tags:  academics, home page, president, provost, webster life, webster today,
News by Topic
Tag Categories
News by Topic
Tag Categories