Participate in the 2016 GCP Collaboratory Remotely
May. 6, 2016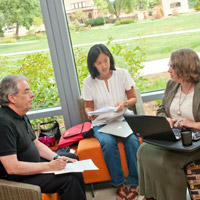 Members of the worldwide Webster community are invited to attend webinar sessions and view live streaming of the Sixth Global Citizenship Program Collaboratory Conference. 
Opening Remarks and Keynote Address
Tuesday, May 17, 9:30-11:15 am CDT 

Bruce Umbaugh, Director of the Global Citizenship Program, will give an address entitled "Who Cares," and Dr. Lynn Pasquerella, President of Mount Holyoke College and incoming President of the Association of American Colleges and Universities will give a talk entitled "What Lasts: Education's Enduring Lessons." 
Dr. Pasquerella's talk will reference a recent Gallup and Purdue University study, which discovered that the most important outcomes of a college education are also the most difficult to measure. When college graduates look back on their educations, they find what matters most are the deepest and most enduring lessons. Colleges must help today's students develop a sense of purpose, strong relationships, financial and physical well being, and connect with their communities.
Collaboratory Laboratory
Wednesday, May 18, 9:30-10:30 am CDT
Watch this hands-on session to explore data in order to generate insights into student learning in the GCP. Participants will leave with strategies and further questions that inform how we will teach, improve, and shape the Global Citizenship Program.
LIVE WORKSHOPS:
Challenge in the Classroom: Connections with Deep Learning
Wednesday, May 18, 8:00-9:15 am CDT
Register for This Webinar
This session will explore the relationships between challenge in the classroom, student engagement, and deep learning.  Specific questions we will address include:
What is challenge?  What does challenge look like in the classroom?
How do challenges in the classroom lead to deep learning?
How can instructors manage challenge in order to assess the deep learning that is taking place?
What is the role of failure in deep learning and how can students and instructors turn failure into a successful outcome?
Ideas from Piaget's disequilibrium theory will be used as an introduction to the session and to add context to our discussion.
Facilitators:
Carla Colletti, Associate Professor, Department of Music
Sara Lusini, Coordinator for Academic Affairs, Leiden 
Integration Strategies for Deeper Learning
Wednesday, May 18, 8:00-9:15 am CDT
Register for This Webinar
In this session, participants will discuss what integrative learning is and engage in activities to identify the types of connections students make in our learning experiences.  We will discuss the challenges and opportunities of students making connections to their life experiences, learning in other courses, as well as explore the skills and competencies needed to integrate across personal, social, and academic contexts.  Presenters will offer a gallery of integrative strategies from GCP courses as well as facilitate discussion of strategies used by attendees.
Presenters:
Holly Hubenschmidt, Head of Instruction and Liaison Services, Library
Sheila Anglin Jordan, Program Coordinator and Adjunct Faculty, School of Education
Erik Palmore, Director, Faculty Development Center
tags:  academics, faculty, global, webster life, webster today,
News by Topic
Tag Categories
News by Topic
Tag Categories