Landmark Study with UNHCR Examines Impact on Mental Health of Humanitarian Workers
May. 20, 2016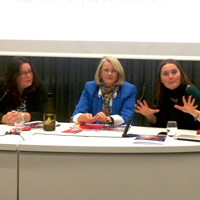 Webster University and the United Nations High Commissioner for Refugees (UNHCR) have released a landmark study on understanding the mental health, well-being and psychological difficulties experienced by humanitarian aid workers in international settings.
The Psychology Department at Webster's Geneva campus helped launched the multi-site investigation along with leading response teams in 2012, and they are continuing their research with additional non-governmental organizations (NGOs) to better understand the impacts of humanitarian work on those in the field and at agency headquarters.
Roslyn Thomas, associate professor and Head of Psychology, Sociology and Professional Counseling programs at Webster Geneva, led the academic investigation with the support and authorship of faculty members Liza Jachens and Loredana Mihalca.
The objectives of their longitudinal research project were to understand the nature and extent of workplace morbidity, and its determinants; assess the mental health of workers; and set a baseline upon which to build programs of support.
In collaborating with UNHCR, and more specifically Dubravka Suzic, Chief of Staff Welfare with  UNHCR, Webster University was given access to a wealth of experience within the humanitarian sector, while it was able to bring research techniques, survey instruments, statistical analyses and theoretical models to the partnership.
Their collaboration allowed for a co-authored organizational report: "Staff Well-being and Mental Health in UNHCR" and academic publications are to follow shortly. Data from close to 2,500 UNHCR and affiliated staff was collected during an online survey available for two months.
"We owe it to the women and men who are on the front lines of caring for millions of forcibly displaced in the world today to ensure their mental well-being," said UNHCR's Deputy High Commissioner Kelly T. Clements, in comments at the presentation of the study.
Research Continues with Additional NGOs
Thomas's team is currently conducting similar studies at other UN and non-governmental organizations based in the Geneva region. As with the report co-authored with the UNHCR, the objective is to assess and address the psychological well-being challenges that humanitarian workers face at headquarters and in the field.
"This collaborative research makes a timely contribution to our understanding of the multiple stressors—high risk contexts of complex emergencies—affecting humanitarian practitioners working at the UNHCR," Thomas said. "Organizations such as the UNHCR can use this report to plan effective responses of support for their employees as they manage their careers in caring for populations living in extremis."                            
tags:  academics, college of arts and sciences, geneva, psychology, human rights, global, home page, webster today,
News by Topic
Tag Categories
News by Topic
Tag Categories