Evaluating Learning in Innovative Ways: Kemper Speaker on Excellence in Teaching and Learning
Oct. 27, 2016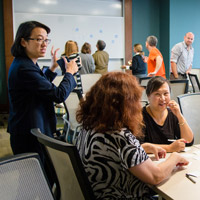 Webster University hosted the fifth Annual William T. Kemper Speaker on Excellence in Teaching and Learning on On October 12, 2016, an opportunity for faculty and curriculum developers to hear insights from a guest expert.
Helen L. Chen. Chen, director of ePortfolio Initiatives in the Office of the University Registrar and a research scientist in the Designing Education Lab in the Department of Mechanical Engineering at Stanford University, gave a keynote address and led a workshop with faculty on the topic of documenting, sharing, and evaluating learning through innovative mediums.
Chen's keynote address, "Redesigning Representations of Student Learning in the Digital Age," posed philosophical questions about how we represent what students learn, offered examples of innovative ways to better capture the entirety of students' learning experiences (both in and out of the classroom), and challenged the campus community to find novel ways of helping students reflect on their learning and document their education.
A major goal is to increase the quality and efficiency of assessment while giving students the opportunity to communicate their learning for their immediate and long-term goals. 
For example, Chen highlighted some practical uses of ePortfolios for faculty, staff, and students, calling the ePortfolio "the intersection of the transcript and the experience. She shared some of the methods and mechanisms being explored that provide a more comprehensive account of a student's learning experience beyond the classroom.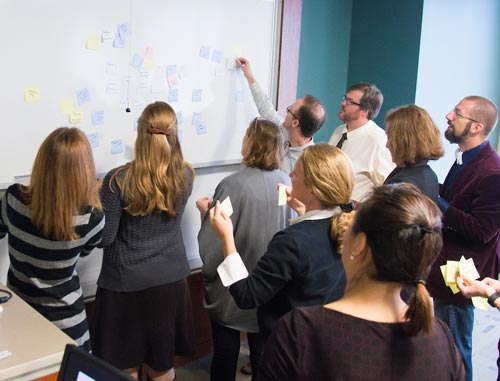 She added that it is this experience — in Webster's case, the study abroad experience, among others —that will set traditional universities like Webster apart from online programs and other institutions.
"The ePortfolio is evidence of a student's entire learning experience and contributes to their self-awareness and self-understanding," she said. "It is also provides evidence of the impact on teaching by the faculty and institution through the reflection of outcomes."
For instance, ePortfolios can simplify the process of writing recommendation letters, they can provide important insights into the impact of our programs and aid assessment initiatives, and they can help students reflect on their learning, making their educational experience more meaningful and integrative.
The lively Q&A session that followed Chen's address confirmed the community's appreciation for her talk and their engagement with the issues she addressed.
During her talk, Chen proposed five "dimensions" of representations of student learning, several of which she also used in a hands-on workshop that afternoon, entitled "From Learning Outcomes to Evidence of Learning: Brainstorming Strategies for the Design of Effective Assessment Approaches."
Twenty-one individuals from programs across Webster University participated in the workshop, which centered on three questions about evidence of learning:
What does evidence of learning look like?
Who is interested in looking at this evidence? and
What are the different uses of evidence?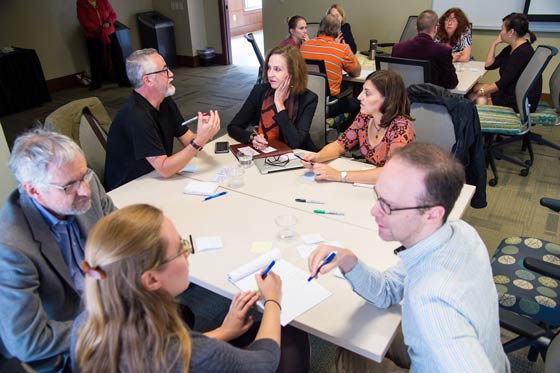 Participants used design-thinking tools and processes in order to work backwards, first brainstorming what evidence of student learning looks like (exhibiting growth in some way).
They then considered the various stakeholders interested in that evidence (students, employers, faculty, university assessment, alumni, admissions, etc.).
Finally, they weighed the steps we can take to show various stakeholders how Webster programs accomplish their stated goals.
As the Webster community continues its various initiatives to measure and reflect on student learning—such as assessing the Global Citizenship Program, revitalizing prior learning assessment efforts, and preparing for the upcoming re-accreditation process by the Higher Learning Commission—Chen's visit provided useful direction to guide the community's thinking about what a Webster degree represents and how learning can be documented, measured, and assessed in today's digital age.
Those interested in further exploring how reflective practices, ePortfolios, and other digital tools can be implemented in their courses and programs should contact the Faculty Development Center at askfdc@webster.edu.
tags:  academics, employee news, faculty, faculty development center, global citizenship program, global, provost, webster life, webster today,
News by Topic
Tag Categories
News by Topic
Tag Categories