Webster Students Win National Lighting Competition
Nov. 3, 2016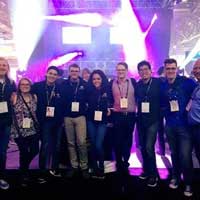 LAS VEGAS - Three Webster University students took first place in a national stage lighting context held in Las Vegas last month. Josh Murphy is a Concert Design student and Natalie Arco and Jon Ontiveros are Theatrical Lighting Design students in Webster's Leigh Gerdine College of Fine Arts.
Webster University will receive a $20,000 scholarship contribution from High End Systems, the sponsors of the contest, and a new lighting control console valued at approximately $20,000. Each team member will also receive a personal mini-control, valued at $10,000.
"Live performances have become increasingly sophisticated, and audiences demand that the lighting and special effects be just as good as the actors and musicians on the stage," said Assistant Professor Seth Jackson, head of the Concert Design department. "Our students did an amazing job applying what they learned in the classroom to a real-life situation, and on a moment's notice. It was a great performance all around."
The competition is called Hog Factor National Collegiate Lighting Show Competition, and it was held during the annual Lighting Design International conference in Las Vegas. A "Hog" is a programmable lighting control board produced by High End Systems. The board is used to program the lighting for live theater, concerts, clubs, theme parks, houses of worship and a wide range of broadcast venues.
All three students said the competition was a great experience, as it allowed them to try out 3D visualizers in a real-life scenario.
"This project really pushed us to be as creative as possible and test how we work together in a higher pressure situation," Murphy said after winning the competition. "We are very grateful to have Seth Jackson as our professor and as head of our Concert Program. The way he runs our program plays a large part in us each having the confidence to go after this project. It was an honor to go up against two excellent teams in the final round, and I think each team did a great job."
To enter the contest, the students had to design and record a performance piece using a Hog board and submit it to a review board. The top three teams were invited to the conference and asked to design new lighting for a piece using one of three pre-determined rock songs. The students then had to play the piece in front of a live audience. A group of judges then picked the final winner. The contest was held Oct. 21-23.
tags:  academics, college of fine arts, home page, webster today,
News by Topic
Tag Categories
News by Topic
Tag Categories