New Choral Work Premiers at Year-End Concert
Apr. 27, 2016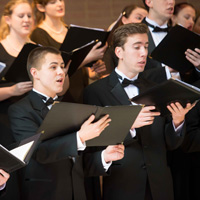 ST. LOUIS - The Webster University Concert Choir will premiere a new choral work during the Leigh Gerdine College of Fine Arts Music Department year-end concert May 1. "Angels in a Time of Terror," written by Associate Professor Kim Portnoy, will be performed by the Choir and two harpists under the direction of Professor Trent Patterson.
The concert starts at 7 p.m. May 1 at Grace United Methodist Church. 
"The piece draws inspiration from multiple sources and deals with the following overarching ideas, such as the sacredness of all human life, terrorism as a form of idolatry and human beings as agents of God - angels," Portnoy said. "It's a personal response to the many acts of terrorism that have flooded our news cycle in the past decade, and the endurance of the human spirit in the face of violence."
The piece is comprised of six movements:
Hallelujah: The Angels Praise God in the Dark Times
The Angels Cry Out to the Child of God (this movement echoes the story of Abraham and Isaac as the Angels attempt to stay the hand of a would-be terrorist.)
The Angels Bear Witness (The Angels witness the horror of a terrorist act. God orders them to earth.)
The Angels Gather the Souls of the Blameless (the Angels prepare to take the souls of the terrorist's victims to heaven. This movement is based on the Jewish memorial prayer "Kel Maleh Rachamim")
Hallelujah II: The Ascent (The Angels take the souls of the departed to heaven.)
The Angels Sing a Hymn to the First Responders (The Angels recognize that those who come to the aid of the victims are the true "angels.")
"We are always pleased to feature the talents of a faculty composer in collaboration with one of our ensembles," said Jeffrey R. Carter, professor and chair of the Department of Music.  "Kim Portnoy has led our music composition program for many years, and writes music that is accessible, beautiful, and meaningful.  Trent and the Concert Choir have delighted in putting all of this together, along with our harp professor and one of her students."
The Webster University Concert Choir will be joined by the Women's Chorus. They will be performing the "Magnificat" in A Minor by Nicola Porpora (edited by Joan Whittmore), "Spring Shall Bloom" by Susan LaBarr, and "Total Praise" by Richard Smallwood (arranged by Doreen Rao).
Grace United Methodist Church is located at 6199 Waterman Blvd, just south of the Delmar Loop on the north side of Forest Park. Admission is $5 per person and tickets will be sold at the door.
tags:  academics, college of fine arts, faculty, featured, home page, webster today,
News by Topic
Tag Categories
News by Topic
Tag Categories