Provost Announces Office of Research and Sponsored Programs
Oct. 25, 2016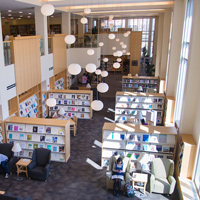 Webster University has created a new Office of Research and Sponsored Programs (ORSP), announced this week by Julian Schuster, provost, senior vice president and chief operating officer.
In a letter to faculty announcing the new office, Schuster elaborated:
"Sustained faculty interest and commitment to research and a new multi-year capacity building grant from the National Institutes of Health provide us with the ideal opportunity to establish a new level of infrastructure and support for achieving operational and academic excellence. 
Central to this effort will be the Corporate, Foundation and Government Relations Team which will transition to staff the Office of Research and Sponsored Programs. The ORSP will report up through the Office of the Provost and work closely with the Office of Academic Affairs. It will adjust primary focus so that it can play a more active role in promoting faculty scholarship and original work with an eye toward helping sustain and grow the community of Webster scholars who are poised for success in seeking external funding.
The new ORSP will have a Faculty Advisor, Eric Goedereis, who will work with Principle Investigators, Carolyn Corley, Stephanie Schroeder and Dani MacCartney to propose policies and develop programs to support and encourage research. This new model of support is designed to assist faculty as they develop and advance in their fields--establishing a scholarly agenda, getting published, involving students in their research, finding grant opportunities and developing proposals.
For those who pursue external grants to advance their research, ORSP grant analysts Linda Dahlgren and Kelly Young will be invaluable partners in developing and submitting your proposal, helping negotiate agreements, manage budgets and submit timely and accurate reporting. Carolyn Corley will direct the new office.
Student and faculty research and publishing will be further bolstered this year with the official registration of the Institutional Review Board. In July, Webster's Institutional Review Board (IRB) received Federalwide Assurance for the first time in our history thanks to the tireless work of IRB faculty and co-chairs. Federalwide Assurance is both recognition and public demonstration of University commitment to ensuring the highest quality research experiences for Webster students at every campus in our network. The designation will enable students and faculty to publish and compete for grants more broadly.
Together, the Office of Research and Sponsored Programs, the Office of Academic Affairs and the Institutional Review Board will work to support scholarly productivity and success for students and faculty across the network.
Over the course of the next five years, grant funding will bring in an ambitious slate of speakers and trainers on issues related to research and grant writing. News of faculty professional development opportunities will become available on a new ORSP website this semester and be publicized broadly. Please join me in celebrating this important step in our collective progress toward operational and academic excellence."
tags:  academics, faculty, global, research, partnerships, advancement, institutional review board, office of research and sponsored programs, home page, provost, webster today,
News by Topic
Tag Categories
News by Topic
Tag Categories