Reflective Teaching Community to Discuss Grading versus Growth
Sep. 28, 2016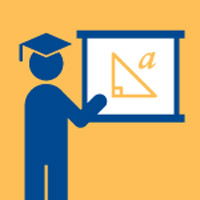 The Reflective Teaching Community (RTC) will hold its next session on Friday, Oct. 7, 12 to 1 p.m. All part-time and full-time faculty and academic partners are invited to join the group for discussion and a pizza lunch in the Faculty Development Center Suite (Emerson Library 420).
At our upcoming meeting, Bill Lynch, Professor in the Conservatory of Theatre Arts, will facilitate a discussion on "Grading versus Growth" that addresses the tension between how instructors and students tend to approach feedback and grades. Most instructors provide detailed, constructive feedback on students' work, hoping that students will pay less attention to their grades than on the guidance they're given to learn and grow. But students may have been conditioned by years of schooling to focus on grades as the primary indicator of success. Does grading necessarily squash learning? How can we help students focus on learning when they're so anxious about their grades?
Join us for our upcoming meetings this semester:
Friday, Oct. 7: Grading versus Growth (led by Bill Lynch, Professor, Conservatory of Theatre Arts)
Friday, Nov. 4: Traditional versus Emerging Competencies (led by Basiyr Rodney, Associate Professor, Department of Teacher Education)
Friday, Dec. 2: The Formal Curriculum versus the Shadow Curriculum (led by David Werfelmann, Assistant Professor, Department of Music) 
To RSVP for the October meeting, please contact Liza Dister, Faculty Development Coordinator, at edister17@webster.edu or (314) 246-7602.
tags:  academics, college of fine arts, employee news, faculty, faculty development center, school of education, webster life, webster today,
News by Topic
Tag Categories
News by Topic
Tag Categories