Reflective Teaching Community to Discuss Traditional vs. Emerging Competencies Nov. 4
Oct. 26, 2016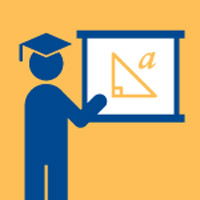 The Reflective Teaching Community (RTC) will hold its next session on Friday, Nov. 4, from noon to 1 p.m. All part-time and full-time faculty and academic partners are invited to join the group for discussion and a pizza lunch in the Faculty Development Center Suite (Emerson Library 420).
At the meeting, Basiyr Rodney, Associate professor of Educational Technology in the Department of Teacher Education, will facilitate a discussion on the topic of "Traditional versus Emerging Competencies."
How do instructors acknowledge and encourage students' skills, talents, and experiences when they differ from the instructors'?
How do instructors reconcile the competencies they deem necessary (written communication, critical thinking) with the competencies they cannot begin to imagine, because these areas are emerging or have yet to emerge?
Instructors can occasionally feel frustrated when students do not arrive in class with certain skills and competencies already under their belts. Some may even believe that students are not as prepared as they used to be. In reality, students possess many skills that will serve them well in the real world, such as effectively navigating a digital world that is saturated with information, knowing how to harness social media for productive purposes, and engaging in issues of social justice.
RSVP for the November meeting to Liza Dister, Faculty Development coordinator, at edister17@webster.edu or 314-246-7602.
tags:  faculty, webster today, faculty development center, reflective teaching community,
News by Topic
Tag Categories
News by Topic
Tag Categories