Spring Choreography Residency: Roxane d'Orleans Juste
Jan. 22, 2016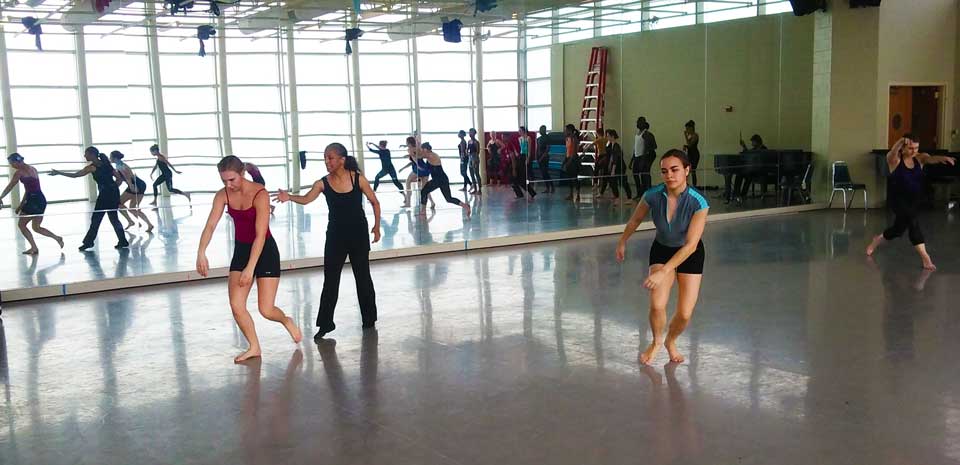 The Department of Dance hosted Roxane d'Orleans Juste with the José Limón Dance Foundation, Inc. for a 10-day residency Jan. 15-24. Juste gave an audition and master class in preparation for Webster University Dance Ensemble's Spring Concert.
A reception and viewing of the piece is open to the Webster community Sunday, Jan. 24 from 3:30-5:30 p.m. in the Loretto-Hilton Center Jean and Wells Hobler Center for Dance studios and lounge.
Dance Ensemble Concert April 29-May 1
José Limón's masterpiece, "There Is A Time," set by Juste and performed by students, is featured in the Webster University Dance Ensemble Concert April 29-May 1 on the Browning Mainstage Theatre in the Loretto Hilton Center.
For more information on Webster University Dance Ensemble's Spring Concert or the Department of Dance, call 314-246-7747, email dance@webster.edu or visit the department website at www.webster.edu/dance. For more information on the José Limón Dance Foundation please visit http://limon.org.
Roxane d'Orleans Juste Bio

Juste, a native of Montreal, Canada, has been a member of the Limón Dance Company since 1983. She has also performed with the Eleo Pomare Dance Company and Annabelle Gamson Dance Solos. Ms. D'Orléans Juste's choreography has been presented by Toronto Danceworks, Shoenberg Dancycle, Dia Center for the Arts, L'Agora de la Danse, The Yard, and the Museé du Quebec. She was honored with the Canadian Dance Award, Le Prix Jacqueline Lemieux (1980), and is the recipient of several grants from the Canada Council for the Arts and the Foundation for Creation in Fine Arts. An active master teacher, she also stages José Limón's choreography for companies and ensembles around the world.
About "There Is A Time"

More than a generation after its premiere, "There Is A Time" remains as timeless today as in 1956 when it was created by José Limón and Norman Dello Joio (with notable creative contributions from costume designer Pauline Lawrence and lighting designer Tharon Musser). Although commissioned for the dance, Dello Joio's musical score, titled "Meditations on Ecclesiastes" has always had a life of its own. It won the 1957 Pulitzer Prize for outstanding musical composition and it continues to be programmed by major symphony orchestras.

The entire work is, both choreographically and musically, a theme with variations. The choreographer used as his theme a large circle, which, at the opening of the work, fills the stage and moves majestically as if to evoke the interminable passage of time. This circle is seen repeatedly in many guises, rhythms and dramatic shapes, always making allusion to the text from Chapter 3 of Ecclesiastes and its evocation of human experience. Each movement of the work is titled with a biblical verse:

The dance is an ensemble work for eleven to sixteen dancers. It was premiered at The Juilliard School on April 29, 1956.



tags:  academics, college of fine arts, webster life, webster today, department of dance,
News by Topic
Tag Categories
News by Topic
Tag Categories