Webster University Conference to Explore the Meaning of Sustainability
Jun. 16, 2016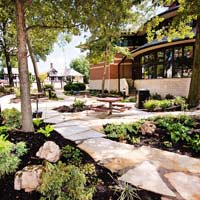 ST. LOUIS - Webster University will explore "Demystifying Sustainability: the Impact of the Individual" at its annual Sustainability Conference at 9 a.m. to 8 p.m. Oct. 8th on its home campus. The conference's keynote speaker is Catherine Werner, the director of sustainability for the City of St. Louis. Renowned poet Kevin Coval also will be featured.
Several local restaurant owners will discuss how they make their businesses more sustainable at the conference, and the University is hosting a "Green Your Neighborhood Challenge" for area high school and Webster University students.
"The term sustainability is used so loosely in the national conversation, and its meaning changes from person to person," said Kelsey Wingo, Webster University's sustainability planner and the chief architect of this year's conference. "For some, it means recycling bottles, paper and cans and nothing else, while for others it means foregoing cars for bicycles, raising back-yard chickens and only wearing second-hand clothing. We will explore how these wide-variations have been adopted by different communities and the issues that follow because we don't have a consistent definition."
As the director of Sustainability for the City of St. Louis, Werner championed several city-wide initiatives, including the development of the Sustainability Plan for the City of St. Louis and the Mayor's Sustainability Action Agenda. Previously, she served as lead environmental counsel for the Federal Resolution Trust Corporation of Washington, D.C., director of Land Protection for The Nature Conservancy of Missouri, program coordinator for the Chicago Wilderness Biodiversity Collaboration, and as an environmental specialist on the production of a large-scale master plan for a community in northern Nevada. Her proficiency with sustainability issues extend to higher education - she was a sustainability consultant to the provost at the University of Nevada, Reno.
Her keynote speech will be at 6 p.m. Oct. 8. Afterward, a community reception will be held.
Coval will offer a spoken-word performance at 5:30 p.m. that day. He is the author of several volumes of poetry including "Schtick," "L-vis Lives!: Racemusic Poems," and "Slingshots: A Hip-Hop Poetica." He also founded "Louder Than A Bomb: The Chicago Youth Poetry Festival," the world's largest youth poetry festival, currently in the planning stages for its 16th year. Coval is the Artistic Director of Young Chicago Authors and teaches hip-hop aesthetics at The University of Illinois-Chicago. He is a four-time HBO Def Poet and has written for CNN.com, The Chicago Tribune, The Huffington Post, National Public Radio in Chicago, and other publications. He recently was honored with a New Voices/New Visions award from the Kennedy Center for a play he co-authored with Idris Goodwin about graffiti writers titled, "This is Modern Art," which premiered at Steppenwolf Theater in the winter of 2015. He published the book "The Breakbeat Poets: New American Poetry in the Age of Hip Hop," released in April 2015 on Haymarket Books.
Besides Werner and Coval, the conference will feature other speakers who will address a number of research projects and other local topics. The conference will include a tour of Webster University's many environmental and sustainable features, from its pond – which has attracted several native species of frogs and dragon flies – to its LEED-gold certified building. During the lunch break, several restaurant owners and chefs will offer food from their businesses and discuss the challenges and successes of running sustainable food operations in the city.
At this year's conference, Webster University will host its first ever "Green Your Neighborhood Challenge." High school students from the St. Louis area and Webster University students are invite to submit a proposal for a project or initiative which would make a house, neighborhood, school, church, etc. more environmentally sustainable. The top three proposals from high school and college categories will be selected by a committee to present at the conference and have the opportunity to win a cash prize. Topics can be related to any sustainability issue or topic, including, but not limited to: energy, climate change, water quality & resources, air quality, biodiversity, waste reduction, education, natural habitats, pollution.
Tickets are not yet on sale for the conference, but should be available soon. If you would like to sponsor this year's conference, or are interested in learning more, visit http://www.webster.edu/sustainability/conference/.
With its home campus in St. Louis, Missouri, USA, Webster University (www.webster.edu) comprises an action-oriented global network of faculty, staff, students and alumni who forge powerful bonds with each other and with their communities around the globe. Founded in 1915, Webster is a private non-profit university with more than 17,000 students studying at campus locations in North America, Europe, Asia and Africa and in a robust learning environment online. The university is committed to delivering high-quality learning experiences that transform students for global citizenship and individual excellence.
tags:  academics, college of arts and sciences, featured, home page, webster life, webster today,
News by Topic
Tag Categories
News by Topic
Tag Categories