Four Webster Music Students Win Awards at NATS Singing Competition
Nov. 2, 2016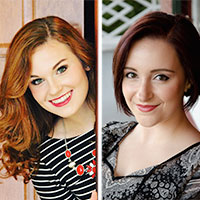 Four Webster University music majors took home awards from the National Association of Teachers of Singing (NATS) regional student conference and competition held Oct. 29-30 in Iowa City, Iowa.
Webster University is in a NATS region that includes Missouri, Iowa and Illinois. A total of 433 students from these states registered as contestants at the two-day event, competing in 14 separate divisions, age-grouped by interest in musical theatre or classical singing. More than four dozen voice teachers served as adjudicators in the three rounds of competition.

Receiving first-place awards were Olivia Bosaw (freshman/sophomore musical theater women) and Abby Benson (freshman/sophomore women). Graduate student Brittany Graham received second place in the graduate women division, while sophomore Sophie Shugart won third place in the freshman/sophomore women category. Two additional students in the junior/senior college women division, Louisa Wimmer and Liz Farris, received commendation and honorable mention.

"You must know that, as usual, these students represented Webster University with beautiful singing and artistry and as the genuine, caring human beings they are," said Martha J. Hart, head of the vocal area. "They supported each other through highs and lows and were an absolute joy to be with this weekend. They made me extremely proud and I appreciate so much the support we all received from the University for this important developmental endeavor. It was a good weekend."
Webster Faculty Participants at NATS

Teachers who attended and served as judges were Carole Gaspar, Martha J. Hart and Amanda Taylor.  Jeffrey Carter, professor and chair of the Department of Music in Webster's Leigh Gerdine College of Fine Arts, was on the conference committee as registration coordinator, and also presented a juried interest session. Other studio teachers who sent students were Robert Ayllon, Jacob Lassetter and Heather Patterson. Hart notes "The most important piece of all were the three collaborative pianists who supported the students with their artful playing - Mieko Bergt, Nancy Mayo and Donna Vince."
"Our results speak volumes about the power of individual attention at a smaller private school," said Carter. "Our students have been in good hands for decades with Carole Gaspar, and now with our full-time team of Martha J. Hart and Jacob Lassetter. The entire line-up of voice teachers is one of our great assets, as shown year after year at these NATS competitions. No other school I know of gives students the amount of time with collaborative pianists and voice coaches that we do. The 'village approach' is truly a remarkable and memorable opportunity for our students."
tags:  academics, college of fine arts, webster today, home page, students, department of music, faculty,
News by Topic
Tag Categories
News by Topic
Tag Categories