Celebrate Academic Integrity Week: 'Do your own work. Write your own future.' Sept. 11-15
Sep. 11, 2017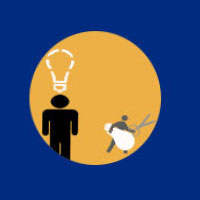 Join Webster University in celebrating Academic Integrity Week, Sept. 11-15.
Academic Integrity Week is part of Webster's global Academic Integrity Awareness campaign that began this fall, and which provides information for students, faculty and staff members. The campaign's slogan is "Do your own work. Write your own future."
Activities for the week include: 
Signage will be displayed in the undergraduate dorms and in the walkways on the Webster Groves campus. 
A Popcorn and Plagiarism workshop will be held Wednesday, Sept. 13, from 3 - 3:45 p.m. in the e-Library classroom. Students who attend will learn more about academic integrity and how to avoid committing plagiarism.  For more information, an online presentation on "Demystifying APA" will be held on Thursday, Sept. 28, at 4 p.m.  Students and faculty can register through the Webster Library.
Writing Center staff members will be staffing a table at Marletto's throughout the week to share handouts and answer questions. 
Additionally, an Academic Integrity table will be set up at the Faculty Networking Event and Resource Fair on Thursday, Sept. 14, from 3 - 5 p.m. in the EAB Commons. There, faculty members may learn how to incorporate Academic Integrity materials into their courses.
For more information, visit Academic Integrity at the Webster website or contact Carolyn I. Brown, Writing Center and Plagiarism Prevention coordinator, at carolynbrown04@webster.edu or (314) 246-7668.
tags:  academics, faculty, webster today, students, academic resource center,
News by Topic
Tag Categories
News by Topic
Tag Categories