Tutoring, Accommodations, Academic Integrity and More: ARC Services for Students
Aug. 10, 2017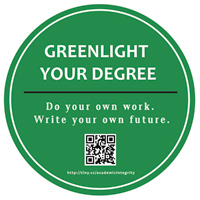 The Academic Resource Center (ARC) team is looking forward to the fall semester. With Fall 1 graduate classes starting Monday, Aug. 21, and undergraduate classes starting Monday, Aug. 28, the fall semester is upon us, and we want to ensure that academic resources for your students are at the forefront of your mind.
ARC Hours Expand Aug. 28
The ARC is currently open from 8:30 a.m. to 7 p.m. Mondays and Wednesdays and 8:30 a.m. to 4:30 p.m. Tuesdays, Thursdays, and Fridays.
However, beginning Monday, Aug. 28, the ARC hours will expand to 8:30 a.m. to 7 p.m. Mondays through Thursdays and 8:30 a.m. to 4:30 p.m. Fridays.
Hours for specific services are below.
Testing Center
Testing Center hours are currently 9 a.m. to 7 p.m. Mondays and Wednesdays and 9 a.m. to 4:30 p.m. Tuesdays, Thursdays, and Fridays.
However, beginning Monday, Aug. 21, the hours will be 9 a.m. to 7 p.m. Mondays through Thursdays and 9 a.m. to 4:30 p.m. Fridays
Tutoring Center
Tutoring Center hours vary based on peer tutors' availability. Please check the schedule at www.webster.edu/arc for details. And, please always keep in mind that additional tutors in additional subject areas are available by appointment.
Contact Chris Robinson, Tutoring Program coordinator, at 314-246-7107 or cdrobinson41@webster.edu to inquire about by-appointment tutoring.
Writing Center
Writing Center hours currently (until Aug. 28) vary but are roughly 10 a.m. to 4:30 p.m. Mondays through Fridays.
However, beginning Monday, August 28, the Writing Center hours will be 10 a.m. to 7 p.m. Mondays through Thursdays, 10 a.m. to 4:30 p.m. Fridays, and 1-4 p.m. Saturdays and Sundays.
Specific scheduling details may be found online at www.webster.edu/arc. Please note that Saturday and Sunday Writing Center hours are held in the Emerson Library.
Outreach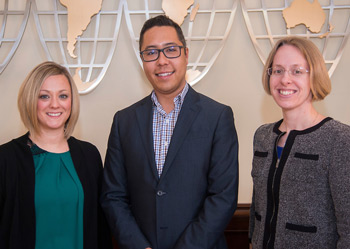 If you have questions about the ARC or any of our services (academic counseling and Gorlok Grit Huddles; ADA accommodations; assistive technology; the Plagiarism Prevention Program or PPP; and/or Testing, Tutoring and/or Writing centers), we encourage you reach out to us.
We are happy to attend department meetings, visit your classes to share information about our services, and/or host class tours in the ARC.
Please contact Erica Ellard, ARC director, at 314-246-7702 or ericaellard90@webster.edu with any questions or to schedule a meeting, class visit, or tour. If you are calling about a specific service, please feel free to reach out directly to the appropriate ARC team member as well.
We ask that you also encourage your students to reach out to us and to use our services. We are here to help your students and may even be able to offer strong students employment opportunities! We encourage faculty and staff members to contact the ARC if they have an excellent student who may be interested in working with the ARC in Peer Tutoring and/or the Writing Center. 
ADA Accommodations and Assistive Technology
Shelley Wolfmeyer, Academic ADA coordinator, supports students with documented disabilities at all St. Louis campuses and in online programs. She also works with faculty and staff members throughout the worldwide Webster University community to support students at extended sites and international campuses. She is available to assist you and your students as well as to present to departments and may be reached at 314-246-7700 or shelleywolfmeyer@webster.edu.
Cindy Yamnitz, Assistive Technology Program coordinator, works closely with Shelley Wolfmeyer to provide assistive technology solutions to students for whom it may be helpful. Yamnitz is also available to assist you and your students and to present to departments.
One type of assistive technology, Kurzweil 3000, is actually available to all members of the worldwide Webster University community and can assist people in improving their reading, writing, and studying processes. This software can also assist ESL learners. To contact Cindy Yamnitz for assistance and/or to schedule a presentation to your department or class, please contact her at 314-246-4245 or cynthiayamnitz36@webster.edu.
Gorlok Grit Huddles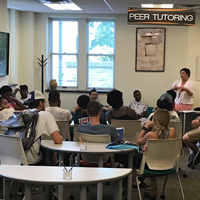 Gorlok Grit Huddles introduce students to topics often covered in academic counseling appointments, including adjusting to change in college; managing time in stressful situations; creating a healthy balance between school, work, family, and activities; goal planning for the semester and beyond; resisting procrastination; and preparing for finals.
To schedule a Gorlok Grit Huddle in your classroom or during an event, please contact Lisa Hempen, Student Success coordinator, at 314-246-8284 or lhoffmanhempen67@webster.edu.
These Huddles are available virtually as well, so extended sites and international campuses may feel free to reach out as well!
PPP
The PPP is a remediation program that educates students who plagiarize about Webster University's academic honesty policy and encourages them to incorporate those principles into their own work. The PPP stresses that academic honesty can be upheld by three key measures: understanding plagiarism, developing effective strategies in the writing process, and incorporating source material appropriately and with proper citation.
The objectives of the PPP are to provide students with a thorough understanding of those concepts as well as strategies to avoid or correct issues that arise in their work so that future academic assignments will maintain the University's standards.
Anyone who would like more information about this program or to schedule a visit to department meetings or individual classrooms during the semester may contact Carolyn I. Brown, Writing Center and Plagiarism Prevention Program coordinator, at 314-246-7668 or carolynbrown04@webster.edu.
Faculty members who are at extended campuses may receive materials electronically and/or schedule a webinar on the PPP and maintaining academic honesty.
Academic Integrity Awareness Update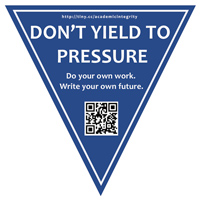 The ARC, in collaboration with other faculty and staff members from both Academic and Student Affairs, created a full academic integrity awareness campaign and program that is kicking off this fall. Students will see signage in their residence halls at the Webster Groves campus and will receive various documents in their New Student Orientation packets.
These signs and materials are also available for extended sites and international campuses (contact Carolyn Brown if you would like those files). Several other resources will also be available and will be shared with students and faculty members through various means.
More information will be provided soon, and an Academic Integrity Awareness Week will be held Sept. 11-15.
Center and Staffing Changes
The ARC is creating a separate welcome desk from the Testing Center desk to provide a more open and welcoming environment to ARC visitors and to ensure that Testing Center employees are able to focus on their various tasks with fewer interruptions.
The ARC is also adding some artwork to attempt to liven up the space and make it more interesting and welcoming. The theme for this artwork will be our international campuses and the cities and landscapes in which they are located. We hope these photos will also increase interest in and encourage study abroad.
Following the installation of the welcome desk and the addition of the artwork, we hope to plan an open house to welcome faculty, staff, and students to the updated ARC. More information will be forthcoming. Ideally, the open house will coincide with an opportunity to meet a new ARC team member.
A search is currently in progress for a new Transitions coordinator as Erin Bullerdieck, inaugural Transitions coordinator, left the University in July to pursue a professional opportunity in California. We will be sure to inform the Webster community of our new staff member as soon as the search and hiring process concludes. While the position is open, all members of the ARC team will be sharing the workload to ensure that the students in this program, who are conditionally admitted first-time freshmen and/or transfer students with fewer than 30 credit hours, receive the necessary assistance and support.
Testing Center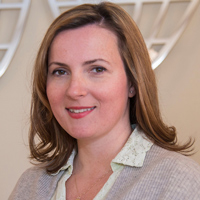 The Testing Center installed security cameras in Fall 2016 to allow us to record, store, and share (in cases of suspected or confirmed cheating) footage. These cameras and the related business practices have increased our ability to ensure a safe and secure testing environment and uphold the highest standards of academic integrity.
Please contact Sanela Bejdic, Testing Center coordinator, at 314-245-8225 or dzanksan@webster.edu with any questions or to request footage.
tags:  academics, employee news, faculty, academic resource center, home page, academic affairs, students, webster life, webster today,
News by Topic
Tag Categories
News by Topic
Tag Categories