Senior Art Majors Showcased in Annual BA Exhibition, Art History Symposium April 28
Apr. 27, 2017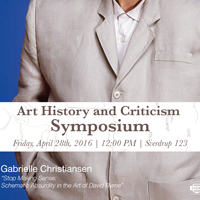 This Friday, April 28 offers the Webster University community a chance to see the culminating work by senior students in the Department of Art, Design & Art History (DADAH) through the annual BA Exhibition and the Art History Symposium.

The Webster University BA Exhibition is held at the end of the year as an opportunity for the BA majors in art to showcase their senior overview work. The exhibition is attended by the entire (DADAH) faculty, family, and friends, as a celebration of the BA graduates and their concluding work.
The Cecille R. Hunt Memorial Award for Bachelor of Arts in Art is also awarded during the exhibition.
Also on that day, Art History and Criticism majors will present their senior theses in the Annual Art History Symposium.
BA Exhibition: Cecille R. Hunt Gallery, 8342 Big Bend Boulevard, opening reception 6-8 p.m. Featured artists include: Bushey, Campbell, Dodd-Lisinski, Tate, Juenger, Nelson, Willett and Willis.
Art History Symposium: Noon in Sverdrup 123. This year's presenter is Gabrielle Christiansen, who will be performing, "Stop Making Sense: Schematic Absurdity in the Art of David Byrne."
tags:  academics, college of fine arts, dadah, department of art design and art history, home page, students, faculty, webster life, webster today,
News by Topic
Tag Categories
News by Topic
Tag Categories