Applied Educational Psychology, School Psychology Students, Faculty Present in New York, New Orleans
Mar. 16, 2017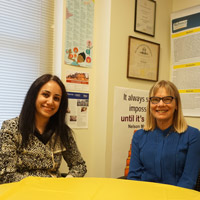 Students and faculty in Webster University's Applied Educational Psychology and School Psychology programs have added to a growing list of publications and academic presentations over the last few weeks at conferences in New York and New Orleans.
In New York on Feb. 24, they presented "The Ferguson Effect: Exploring How Post-Election Hatred is Addressed in Schools," at the 34th Annual Columbia University Winter Roundtable. 
In New Orleans on March 2, they delivered two presentations at the 46th Annual Meeting of the Society for Cross-Cultural Research (SCCR).
Since 2011, students in these graduate programs have presented 38 professional presentations at national and international conferences. Notable examples among these include five presentations at last summer's ISPA in Amsterdam, and a presentation in Portland last spring on Native American and African American youth suicide prevention.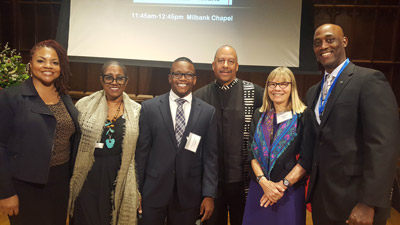 The presenters last month in New York were adjunct Jameca Falconer, adjunct faculty member, and Debbie Stiles, professor and coordinator of the programs, along with graduate students Centron Felder, Christopher Campbell, and Enita Rogers. 
Through their presentation, they shared preliminary results from current research being conducted by the Southern Poverty Law Center, Teaching Tolerance, and Webster University's Applied Educational Psychology and School Psychology programs. They shared preliminary results pertaining to the impact of the recent presidential election on school climate and children and youth attending Missouri schools, kindergarten through 12th grade (K-12).
In the presentation, they described school-based incidents of bigotry and hate as well as post-election instances of hope and inclusion. 
Because the findings could be considered controversial, they will be sharing them with the general public after they have published our results in scientific journals.
Previously, students and faculty in the program published their research on the psychological impact of Ferguson in schools in Educational and Child Psychology, a journal of the British Psychological Society.
Society for Cross-Cultural Research
The presentations in New Orleans were: 
"How Family Expectations May Influence Education and Career Paths for Women from Venezuela, Iran, and Japan: An Exploratory Study," by graduate students Jennifer M. Pierce and Maria I. Escalona.
"The Possible Benefits of Transition Schools for New Muslim Students Attending Elementary Schools in United States," by graduate student Sepideh Shirafkan and professor Stiles.
The latter presentation was part of a session titled, "Cognitive Processes Across Cultures," which was chaired by Stiles. In the same session, Yin Lam Lee-Johnson, professor of Teaching English as a Second Language in Webster's School of Education, and Dorcas McLaughlin, professor of Nursing in the College of Arts & Sciences, presented "Investigating the Intersectionality of a Teacher Candidate with Cerebral Palsy.
At last year's SCCR, Webster faculty presented research that was published this year, "An Exploration of Culturally Grounded Youth Suicide Prevention Programs for Native American and African American Youth," in the International Journal of Learning, Teaching and Educational Research. 
tags:  academics, college of arts and sciences, faculty, home page, applied educational psychology, research, school of education, webster life, webster today,
News by Topic
Tag Categories
News by Topic
Tag Categories