Webster Biological Sciences Research Highlighted in Illumina DNA Sequencer Video
Mar. 30, 2017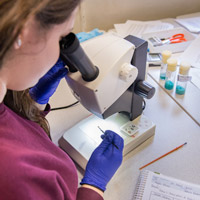 Science equipment producer Illumina released a video feature story about Webster University, its biological sciences program, and how Webster undergraduate students are conducting new research using a DNA sequencer made possible by a grant from Monsanto.
The video features interviews with Webster professors Mary Preuss, Victoria Brown-Kennerly and Stephanie Schroeder, as well as several students.
The sequencer was purchased with a grant from Monsanto last year. The MiniSeq System opens up new possibilities for students' and faculty research: The easy-to-use next-generation sequencing (NGS) platform provides students who may not otherwise have been exposed to a sequencer a unique hands-on opportunity to interact with one. 
"It's going to open [students'] minds to the possibilities of what you can do with all this technology," Preuss said.
"How it feels to know that one of my students may cure cancer, Alzheimer's, Parkinson's...is pretty immense," Schroeder said.
Filmmakers with Illumina were on campus in the fall to talk to faculty and students at the same time as the "topping out" ceremony held to mark a milestone in the construction of Browning Hall, Interdisciplinary Science Building.
Research at Webster
For anyone passionate about collaborative research, this is an exciting time to be at Webster. Liberal arts universities across the world are currently grasping for more ways to provide opportunities for students to engage in these sorts of experiences.
Webster's commitment to the new Interdisciplinary Sciences Building and recent initiatives such as the Student/Faculty Collaborative Research Grant program, external grant-seeking efforts, and the twice-a-year Research Across Disciplines (RAD) Conference are demonstrating Webster's commitment to meet this challenge.
About Illumina
A global genomics leader, Illumina provides comprehensive next-generation sequencing solutions to the research, clinical, and applied markets. Illumina technology is responsible for generating more than 90% of the world's sequencing data. Through collaborative innovation, Illumina is fueling groundbreaking advancements in oncology, reproductive health, genetic disease, microbiology, agriculture, forensic science, and beyond.
tags:  academics, college of arts and sciences, home page, biology sciences, faculty, students, research, strategic plan, webster life, webster today,
News by Topic
Tag Categories
News by Topic
Tag Categories