Webster Biology Student Earns Prestigious Scholarship to Leadership Conference
May. 8, 2017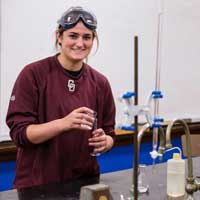 When the semester ends this month, most college students will take a break from their studies and catch up on their sleep, look for a temporary job or reconnect with old friends. Hannah Rowold, who enters her senior year next fall, won't be doing any of that. Instead, she will be preparing for a national conference for women leadership.
Rowold, a biology and psychology double major in the College of Arts & Sciences, was awarded a full scholarship to attend the National Conference for College Women Student Leaders, to be held at the University Maryland, College Park May 31 to June 3. The scholarship was awarded by the American Association of University Women (AAUW), an organization founded in 1881 to fight for the rights of women.
"Being able to do this is phenomenal," Rowold said. "The scholarship covers everything but the cost of travel. It even includes an excursion. I'm going with a group to visit the Women's Memorial at Arlington National Cemetery, including the Hall of Honor and Court of Valor. And they are paying for an extra day in D.C. to explore. I'm excited for this trip."
Rowold learned of the scholarship from Professor Amanda Kracen, who suggest she would benefit from it.
"The faculty at Webster really cares about your progress and your future, and they get to know the students' goals and aspirations," Rowold said. "There are so many people at Webster who have helped me develop as a student, but I have to give a special shout-out to Professor Kracen who has been such a positive, empowering mentor to me."
The application for the scholarship was complex, Rowold said, and included essay questions, financial documents, and requests for details about past community involvement, volunteer experience, leadership roles and future educational goals. She was notified last month that she was selected by the AAUW as one of their national recipients to attend the conference. Since then, she has been scouting out the many sessions offered.
"I'll be attending workshops with objective outcomes like knowing when and how to take action, developing a leadership narrative through voice skill and mindset, and building a professional tool kit for graduate life," Rowold said. "There's also workshops on understanding issues and policies affecting women, as well as supporting diverse voices. With guidance from experienced mentors, I'm not only going to strengthen my skills in these areas, but it's going to help me develop as a better, more confident leader."
After she graduates from Webster, Rowold hopes to pursue a doctorate degree in occupational therapy. "Beyond that, I see myself in a position of leadership where I will be able to work as a therapist, but also as an advocate for the people I'm serving. Pursuing biology- that's one of the things I love about occupational therapy. I'll get to work one on one with people and I'll get to follow my passion of science.
For more information about the National Conference for College Women Student Leaders, visit https://www.nccwsl.org. For more information about the AAUW, visit http://www.aauw.org/who-we-are. 
tags:  academics, college of arts and sciences, home page, president, provost, webster life, webster today,
News by Topic
Tag Categories
News by Topic
Tag Categories