Assistant Professor in School of Communications Launches Video Games
Nov. 15, 2017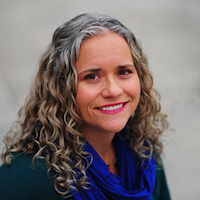 (ST. LOUIS) - Lisa Brunette, a visiting assistant professor for Games and Game Design in the Webster University School of Communications, is on the leading edge of the computer gaming industry. Since the industry was first established with the first video games nearly five decades ago, the industry has been predominantly male. But that is now changing, and Brunette is leading the way. Two of her games - "Sender Unknown: The Woods" and "Matchington Mansion" - are currently topping the iTunes game charts.
About Lisa Brunette
Brunette initially had no plans to work in the gaming industry.
"When I was in college, there really weren't any degree programs in game design" she said. "It didn't even cross my radar as a possible career even though I'd enjoyed arcade games as a kid in the 80s."
She instead pursued a career as a writer and teacher, winning several awards along the way. She also worked for the St. Louis Science Center as a researcher and writer for an exhibit called Cyberville Gallery, which covered the history of information technology. Her experience writing for that exhibit helped her develop the interactive writing skills needed for designing games.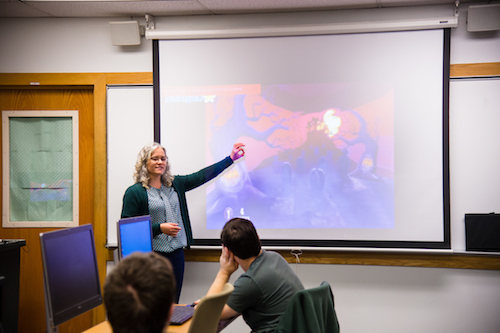 Then in 2007, Nintendo reached out to her. Games were becoming more sophisticated and they were looking for writer to work on a game called Style Savvy. They reached out to her because of Brunette's experience as a journalist, which equipped her to be successful in developing story-based games. The gamble paid off. Since then, she has never looked back.
The 10-year game industry veteran has dedicated most of her career to writing and designing casual games. A "casual" game is a term used to describe games played by mainstream audiences rather than "hardcore" games like first-person shooters. Casual games are often based on intrigue or puzzles rather than violence.
Brunette has writing credits to hundreds of game titles that are played by millions of people around the world.  She has worked with top gaming companies such as Take-2 Interactive, Nintendo, and Big Fish, the world's largest publisher of casual games and where she formed and managed the narrative department.
This year has been busy for Brunette, releasing two new games just one month apart. Both of the games have different themes and have been rated highly in the iTunes App Store and Google Play.
Sender Unknown: The Woods
"Sender Unknown: The Woods" is a narrative-driven, text-based, choose-your-own-adventure interactive game, which uses stats, puzzles, and multiple choices to affect the fate of the characters. The objective of the game is to find four friends who are lost and being stalked in the Ozarks by solving the mystery through text messages and images. Since it has launched in late September, the game app has already been featured on "New Games We Love" in the App Store, climbed to the sixth spot in the Free Adventure category, beating out the popular game "MineCraft Story Mode." The game also has a 4.2-star rating with more than 600 reviews. This game takes some influence from the movies "Cabin in the Woods"and "Cellular," and the "Lifeline" game series.
"I've always loved text adventures and read every "Choose Your Own Adventure" book I could get my hands on as a nerd girl in the 80s, before being a nerd was cool," said Brunette. "So in a way, I've been waiting my whole life for this kind of game design."
Brunette was hired to design game with Marianna Shilina Vallejo, CEO of Daily Magic Productions, and her team of artists and programmers. Brunette is very proud of "Sender Unknown: The Woods" because of the satisfying creative synergy between the two designers, who'd worked together previously through Big Fish. "Sender Unknown: The Woods" is their first indie project together.
Matchington Mansion
Launched in October, "Matchington Mansion" is an adventure game that explores creativity through interior design. The purpose of the game is to hone interior design skills while protecting the mansion from a mischievous cousin. Other features of the game include unlocking new rooms, furniture, and new secrets, decorating the mansion, and even spying on neighbors' design choices. This game has a 4.5-star rating on Google Play with nearly 5,000 reviews and 4.5-star rating in the iTunes App Store with more than 500 reviews. Brunette describes herself as an HGTV addict and immediately said yes when Firecraft Studios approached her about designing and writing for "Matchington Mansion."
Games and Game Design Course
Brunette is fairly new to the Webster University community and began teaching her games and game design courses this fall. Brunette shares her expertise as a game designer and incorporates real-world experience in her classroom. For example, she conducts weekly game critique meetings with her class as she would at Big Fish.
"I constantly tie every course outcome to preparation for the work in the field," said Brunette. "I give them as many opportunities as possible to mirror real-world work."
Brunette's advice to anyone interested in the gaming industry is to expand your horizons on video games.
"Play lots of games, especially outside your own likes and dislikes," she said. "You truly learn how to design games by making games for other people to play, not just for yourself to play."
tags:  academics, home page, school of communications, home page, webster life, webster today,
News by Topic
Tag Categories
News by Topic
Tag Categories