Webster University Professors Help Local Entrepreneur in Catapult Competition
Jan. 30, 2017
(ST. LOUIS) – On Friday, Jan. 27, Dawn Manske and three Webster University professors competed in the St. Louis Business Journal Catapult Competition. Manske owns Made for Freedom, a lifestyle that brand sells products made by survivors of sex trafficking and those at risk for sex trafficking.

The St. Louis Business Journal and MasterCard organize the Catapult Competition. Women-owned businesses compete for a $10,000 package of technology services from MasterCard.

Manske applied to be in the Catapult Competition and was accepted as one of three finalists. She was paired with three coaches from Webster University:
Eric Rhiney, Assistant Professor of Management
Nicole Roach, Associate Vice President for Diversity and Inclusion
Senior Directory for Community Engagement
Terry Sullivan, Assistant Professor of Advertising & Marketing
As a part of her pitch, Manske told the crowd the story of one of the women her business has helped, "A teenage girl named Kundulla was sold to a brothel by her uncle after being gang raped and lived as a sex slave for years. 27 Million people are trapped in modern day slavery and St. Louis is in the top 20 of trafficking hubs in the US. Thanks to a restoration center, Kundulla left that life... and gained sewing skills, employment and dignity."

While the top prize was given to RISE Collaborative, which was coached by Anders CPAs + Advisors, Manske received $2500 from MasterCard. Even without the top prize, Manske says the experience of working with the coaches was valuable.

"We just really connected and they were very encouraging and had some great thoughts on how to go about marketing in general," said Manske.  They helped me think of ways to share a story like this so people understand what you're doing and how you're really helping women."

Sullivan said that he enjoyed learning about Manske's passion to begin the business.

"This experience has been a keen reminder why people start businesses; it is about passion," said Sullivan. "And even if the mission of a business is not as noble as Dawn's, the passion and determination it takes to pursue and persevere building a small business is always awe-inspiring to me."

The team worked together for more than a month and in that time they helped Manske craft her one-minute pitch.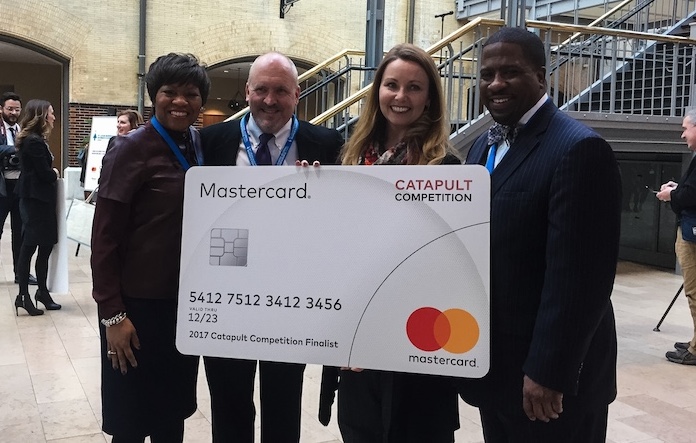 "I believe we helped Dawn narrow her focus, which for most entrepreneurs is pretty difficult," said Sullivan. "Made for Freedom sells products, and this is largely what Dawn talked about initially; but the products are the vehicle for the larger story and mission. So, while selling products is critical to the mission, Dawn's passion and mission are the larger part of the story that needs to be told locally, nationally, and globally, which is transforming the lives of victims and those at-risk of human trafficking, and empowering women to take more control over their destiny."

Manske said the focus on her story helped with her business strategy.

"We're in the middle of rebranding and being a finalist and having a booth at the event again was the impetus to do a lot of different things that I wanted to do," said Manske. "I now have a whole new plan and the pieces are together finally for approaching boutiques and small gift stores."

With the money that she's received from MasterCard and the advice she's received from the Webster University coaches, Manske hopes to invest in technology that will help Made for Freedom's story reach a larger global audience.

"This is an issue that is happening around the world and Made for Freedom has connections around the world with centers that are providing employment, helping women who have been rescued and also those who are at risk," said Manske. "So we're really looking at some online tools that will help with getting the message out and helping people understand not only what the message is but how they can get involved in Made for Freedom projects to help fight these issues."

For more information on the Catapult Competition and to read information about the other finalist businesses, visit St. Louis Business Journal.
tags:  academics, faculty, home page, school of business and technology, school of communications, webster today,
News by Topic
Tag Categories
News by Topic
Tag Categories