Council of Independent Colleges to Hold a Workshop at Webster University
Mar. 3, 2017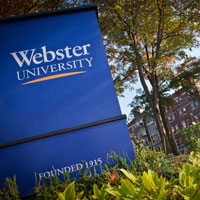 ST. LOUIS - Webster University will host a workshop in mid-March for some of the top educational experts in the region. "Securing America's Future: The Power of a Liberal Arts Education" will be presented by the Council of Independent Colleges (CIC) at Webster University's home campus on March 14. This is the seventh of eight workshops on the liberal arts that CIC has held across the nation in the past year.
Representatives from universities throughout the region will participate in both small and large group discussions about the liberal arts during the day-long event. Rich Ekman, president of the Council of Independent Colleges (CIC), will welcome the group. Georgia Nugent, senior fellow at the Council of Independent Colleges (CIC), former interim president of the College of Wooster, and president emerita of Kenyon College, will moderate the workshop.  Speakers will include Christopher Morphew, executive associate dean for Research and Innovation, College of Education, University of Iowa; Christopher Howard, president of Robert Morris University; and Elizabeth (Beth) J. Stroble, president of Webster University.
"This workshop offers private college leaders in the region an opportunity to discuss responses to significant and continuing changes in higher education, the nation, and the world around us," Ekman said.  "Sharing insights and research will help their institutions deal more effectively with both the trends they face today and future issues."
"We are pleased to host this CIC workshop about 'Securing American's Future.' As a member of CIC's Project for the Future of Independent Higher Education, I welcome the opportunity to engage with leaders of peer institutions on topics of critical importance to the students we serve," Stroble said.  "This conference comes at a time when Webster is innovating in the sciences through the opportunities afforded by our new Interdisciplinary Science Building.  We are also expanding our longstanding online programs and building success for an increasingly globally diverse and inclusive student population.  We look forward to learning more about how to thrive in the future."
During the conference:
Morphew will lead a focus session on research about the future of independent higher education
Nugent will host several sessions, including a look at trends and internal and external forces shaping higher education, an overview of the CIC's public information campaign about the liberal arts, and small group discussions on strategies and opportunities
Stroble and Howard will lead the lunch session discussion on innovation in higher education
Ekman will oversee the closing session about what was discussed and next steps.
The workshop is an iteration of a three-year award-winning CIC campaign to promote liberal arts education. Leadership teams from several regional universities and colleges have registered to attend the event that is only open to representatives of CIC member institutions. Registration is required.
For more information, visit https://www.cic.edu/programs/securing-workshop-webster. 
tags:  academics, home page, president, webster life, webster today,
News by Topic
Tag Categories
News by Topic
Tag Categories