Conservatory Students Direct Spring Capstone Projects
Mar. 21, 2017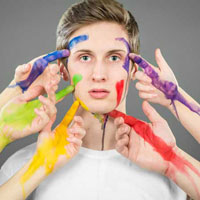 Melania Ricks (Next Fall) and Max Friedman (Rhinoceros), students in the Conservatory of Theatre Arts, will present two senior directing capstone projects this spring. Both productions are student-run. This project is also a semester assignment for Conservatory acting, costume design, scenic design, lighting design, sound design and stage management students.
Tickets
For tickets to all Conservatory of Theatre Arts productions, call, (314) 968-7128. Admission is free for Webster students, faculty, and staff with a valid ID. Other admission is $15 for adults; $7 for seniors, alumni, and non-Webster students.
Next Fall by Geoffry Nauffts
Directed by Melania Ricks '17
Performances March 31-April 2
Friday 7:30 p.m., Saturday 2 p.m. and 7:30 p.m., Sunday 2 p.m.
Stage III (Lower level of Webster Hall)
Synopsis: Adam and Luke are in a happy, committed relationship. They have been living together for years, despite some minor differences: Luke is a Christian and Adam is very much not. This leads to some debates, as well as to Luke keeping his relationship with Adam a secret from his family. Everything is running somewhat smoothly, until a sudden accident forces Adam to turn to Luke's family for support. This touching and funny play questions the limits of love and faith.
"Compassionate, laugh-filled and enormously entertaining. Geoffrey Nauffts invests the play with a generosity that doesn't prejudge, embracing both the virtues and foibles of his characters. And that inclusion makes Next Fall an even richer experience." -Associated Press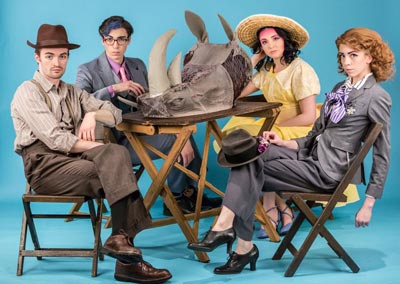 Rhinoceros by Eugene Ionesco, translation by Martin Crimp
Directed by Max Friedman '17
April 7-9
Friday 7:30 p.m., Saturday 2 p.m. and 7:30 p.m., Sunday 2 p.m.
Stage III (Lower level of Webster Hall)
Synopsis: All is quiet in small town in France. Friends meet in the town square for coffee and lively discussion. It is normal. This is all disrupted by a rhinoceros barreling through the town. Many believe it never happened, but the local drunk Berenger insists it was real. Slowly, he witnesses his fellow townspeople turning into rhinos and wreaking havoc. Rhinoceros is full of insight on the human condition with little pieces of humor mixed in, a must-see classic of the Absurdist movement.
"Rhinoceros is filled with animal grunts and snorts and panicky human frailty, showing us how it feels to have one's identity subsumed and traduced." -The Guardian
tags:  academics, college of fine arts, home page, webster life, webster today, conservatory of theatre arts, students,
News by Topic
Tag Categories
News by Topic
Tag Categories