MS in Cybersecurity Offered at Irvine Location
Aug. 31, 2017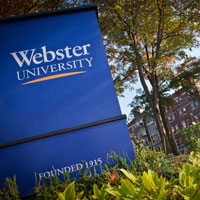 IRVINE – Classes for Webster University's acclaimed Master's in Cybersecurity program will be offered in Irvine later this fall, it was announced this week. It will be the first classroom-based Master's in Cybersecurity program offered in Orange County.
The Cybersecurity Program is offered through the George Herbert Walker School of Business and Technology. It was launched in Colorado Springs in 2014 at the request of the U.S. military. Since then, the program has since expanded to several Webster University locations in the United States and Europe as demand for the program from military and businesses has grown. The program is one of the fastest-growing in the University.
"Cybersecurity threats affect practically everyone, from individuals purchasing gasoline with a credit card to government agencies responsible for managing huge databases of taxpayer information," said Brian Dozer, Director of Webster's Irvine campus. "Every business and industry sector in Orange County has cybersecurity concerns and this is one of the fastest-growing fields in the county today. We believe that demand will continue as we continue to become more dependent on the digital world."
According to a recent report by the labor-market analytics firm Burning Glass Technologies postings for cybersecurity jobs have grown 74 percent since 2007. In 2013 alone, the report said, there were more than 200,000 postings nationally for cybersecurity jobs, with an average salary of $93,028. That's more than $15,000 higher than other IT positions as a whole. And because the number of qualified candidates for these cybersecurity jobs far lags the number of open positions, these postings tend to remain open much longer than other IT jobs, according to the Burning Glass Technologies report. 
Webster's program prepares students to be well-versed to apply their knowledge and critical thinking related to domestic and international legal systems, private and public policies, and ethics. It emphasizes skills in digital information protection, cyber terrorism, cyber fraud and theft, cyber intelligence and counterintelligence, digital forensics and pre-emptive and strategic force operation application situations.
Webster's new master's degree program in cybersecurity was established in 2014 to help fill a staggering demand for cybersecurity training in the Colorado Springs area. The U.S. Air Force Space Command approached Webster to create the program because it has 1,400 employees who need training in cybersecurity.  Besides the classroom-based Cybersecurity courses, Webster also offers an online certificate in Cybersecurity Threat Detection.
To request more information about the program, or learn more about how to apply, visit http://www.webster.edu/irvine/ or http://www.webster.edu/masters/cybersecurity.html.
With its home campus in St. Louis, Missouri, USA, Webster University (www.webster.edu) comprises an action-oriented global network of faculty, staff, students and alumni who forge powerful bonds with each other and with their communities around the globe. Founded in 1915, Webster is a private non-profit university with nearly 16,000 students studying at campus locations in North America, Europe, Asia and Africa and in a robust learning environment online. The university is committed to ensuring high-quality learning experiences that transform students for global citizenship and individual excellence.
tags:  academics, extended campus, provost, school of business and technology, webster today,
News by Topic
Tag Categories
News by Topic
Tag Categories