Grant Recipients in History, Politics, Education Present Colonial Virginia Research
Mar. 1, 2017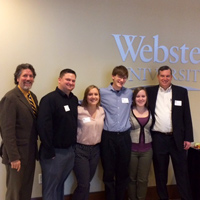 Students majoring in History, Politics and Secondary Social Studies Education who participated in the Tidewater, Virginia, field-based course in Summer 2016 presented at the Missouri Council for Social Studies state conference on Feb. 18.
It's the latest activity from a group that participated in the Provost's Student/Faculty Collaborative Research Grant program in summer and fall 2016 to advance their work.
Mentored by Ted Green, professor in the Department of Teacher Education in Webster's School of Education, they also presented at Webster's December 2016 Research Across Disciplines conference.
They also held a Mini-Research Presentation at the Alumni House on Oct. 26, 2016, for the Department of History, Politics and International Relations, the Department of International Languages and Cultures (both in the College of Arts & Sciences) and fellow School of Education faculty and students.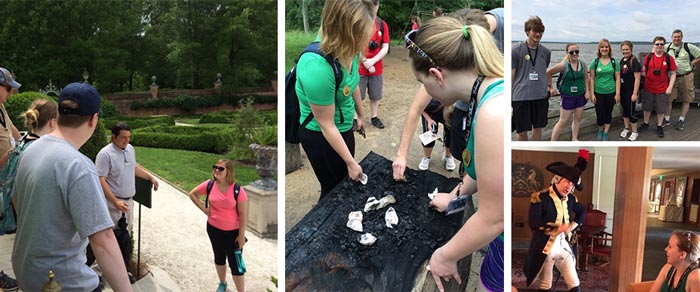 Among the topics and their presenters:
Experiential Learning Through Field Based Coursework in Tidewater, Virginia and Beyond: What does the material and social culture reveal about the intersection of lives from a Eurocentric, Native Peoples and African Slave perspective?
Cathlyn Claridge, History and Secondary Education major: How did religion in 17th and 18th century Virginia impact society?
Austin Dudley, Educational Studies major: Which 18th century agricultural practices could be sustainable in today's world?
Katie Lade, History and Political Science major: Which architectural elements from Tidewater, Virginia have stood the test of time?
Kevin Reichardt, Secondary Social Studies Education MAT (master of arts in teaching) major: How was communication in 18th Century Virginia used to inform, inspire and interrogate citizens?
Scott Vassalli, Secondary Social Studies Education major: Military intelligence with the Commander in Chief: The man or the myth?
Registration is now open for the 15th Anniversary of Dr. Green´s Tidewater, Virginia course, scheduled for May 17- 20, 2017. Contact Green for more details: tgreen@webster.edu. Registration is now open!"
Spring 2017 recipients of Student/Faculty Collaborative Research Grants were announced earlier this month. The next Research Across Disciplines (RAD) conference is scheduled for May 5-6 at the Webster Groves campus.
tags:  academics, college of arts and sciences, faculty, research, home page, experiential learning, collaborative research, provost, school of education, webster today,
News by Topic
Tag Categories
News by Topic
Tag Categories