Expanding Horizons: Fall 2017 Study Abroad Deadline Friday, March 31
Mar. 24, 2017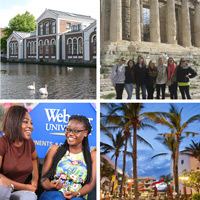 The Office of Study Abroad (OSA), located in Sverdrup 207, is here to guide students through the study abroad application process. Webster University has committed to doubling the number of students that study abroad by 2020. 
Students considering a study abroad experience for Fall 2017 must apply by Friday, March 31.
Increasing Participation, Accessibility
Did you know that two out of three study abroad students are female? Webster's goal is to have more males and other underrepresented populations, such as African-American and Hispanic students, participate in study abroad.
Overall, 22.4 percent of undergraduate degree recipients at Webster University this past year had a study abroad experience by graduation, while 15.1 percent of students studied abroad at the national level. 
Webster is a participant in Generation Study Abroad, a five-year initiative of the Institute of International Education (IIE) to mobilize resources with the goal of doubling the number of U.S. students studying abroad by the end of the decade.
"It is more important now than ever for Americans to gain global competency skills so that they can succeed in the global marketplace," according to Generation Study Abroad.
And applying for study abroad is not complicated: It is as simple as visiting the OSA or writing to OSA staff for guidance to begin a life-changing experience. Faculty, staff and fellow study abroad students are encouraged to spread the word and help promote study abroad opportunities to all Webster students.
Questions?
tags:  academics, students, faculty, strategic plan, home page, study abroad, global, webster life, webster today,
News by Topic
Tag Categories
News by Topic
Tag Categories