Centre Francophone Named a Center of Excellence by the French Embassy
Dec. 12, 2017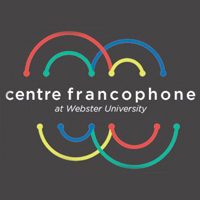 ST. LOUIS - Le Centre Francophone has been named the first Affiliate to the Centers of Excellence by the Cultural Services of the French Embassy in Washington, D.C. With this important recognition, Le Centre Francophone will qualify for annual grants for projects of up to $20,000.
Created in 2012 by Lionel Cuillé, who holds the Jane and Bruce Robert Chair in French and Francophone Studies in the College of Arts & Sciences, Le Centre Francophone is devoted to promoting French and Francophone culture in the St. Louis area through lectures, workshops and special events that are open to the general public.
"This is a significant honor that recognizes our work in promoting French culture at Webster University", said Professor Cuillé, director of the Centre. "Through this recognition, we are now part of a network of 20 centers located in major universities who work closely with the French Cultural Services on ambitious projects. With the continuing support of our institution, will now have a national visibility, we can now organize major projects.
"This will also further expand the opportunities for our students to network with people from around the francophone world. As I explain to my students, studying another culture is not just about proficiency. Thanks to the Centre Francophone, it's also about professional opportunities. A case in point - a meeting with the former minister of Justice of France, Christiane Taubira, who met our students on our campus this year."
Among the closed group of 20 "Centres d'excellence" are those based at Princeton University, Harvard, Cornell, NYU, and John Hopkins. This isn't the first honor this year for Cuillé or the Le Centre Francophone. Earlier this year, he was honored as Chevalier in the "Ordre des Palmes académiques" (Knight in the French Order of Academic Palms) by Vincent Floreani, General Consul of France in Chicago, which rewarded his work with Le Centre Francophone.
To learn more about Le Centre Francophone, visit http://www.webster.edu/arts-and-sciences/affiliates-events/centre-francophone/.
tags:  academics, college of arts and sciences, faculty, home page, webster today,
News by Topic
Tag Categories
News by Topic
Tag Categories