Little Rock Pilots Master of Public Administration via WebNet+
Feb. 20, 2017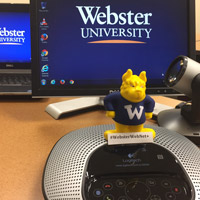 Collaboration among Webster University's Online Learning Center (OLC), the George Herbert Walker School of Business and Technology, and the Little Rock Air Force Base campus location has led to new opportunities for students interested in the Master of Public Administration (MPA) and other programs.
The Webster units have piloted using WebNet+ to integrate with the on-ground MPA program offered at Little Rock Air Force Base, with the opportunity to integrate other programs in the future.
At its core, WebNet+ allows faculty to deliver media rich, real-time learning experiences to students across geographic locations, linking learners via video live stream. It also allows students to connect with subject matter experts located in another area. 
Webster began rolling out this enhancement in Fall 2015, to immediate results.
Late last fall, Michelle Loyet and Tyann Cherry from the OLC met at Webster's Little Rock Air Force Base location to conduct training on WebNet+ with faculty there. 
A core group of 21 faculty from both Little Rock campuses (the air force base and Little Rock Metro) participated. Although the primary focus was the MPA pilot at the military campus, metro instructors also participated to further integrate WebNet+ into other programs.
"The faculty were engaged and excited about the possibilities WebNet+ provides for student success and access, for the MPA and the other programs in the Little Rock portfolio," said Cherry, manager of Operations and Faculty Support for the OLC. "I look forward to continuing our work together."
Leveraging Metro-Military Opportunities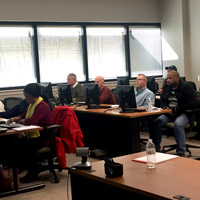 Webster Little Rock area director Kelly Lyon sees opportunity for both her locations -- and beyond.
"We're continuing to learn how to leverage the strengths of a metro-military campus pair," Lyon said. "Although one campus has a military designation and the other metro, in reality, students and faculty move back and forth between the campuses, and online, based on what meets their needs in any given term. Growing capacity in one program has a ripple effect throughout all our programs."
Further, it can have a ripple effect throughout other Webster campuses. By integrating WebNet+ into the entire MPA program, other campuses can offer and grow the program by linking to a site with a consistent on-ground schedule of classes.
While the MPA program is small, it's grown consistently at the Little Rock Air Force Base campus, under the leadership of Carmen "Caite" Hall, Webster Little Rock area assistant director.
"We have 46 students in the program with 28 enrollments this term and have a consistent on-ground schedule," Hall said. "For Spring 2, we're offering PADM 5840 Budgetary Theory and Analysis and PADM 6000 Integrated Studies in Public Administration.
Helping Students Who Work in or with the Public Sector
Another significant component to the pilot is the program is being led by a graduate who has taught in the program for the last several years: Virginia Young, '02, who brings her experience as mayor of Sherwood and as a Webster alumna to the classroom. Young and Hall participated in program lead training on Jan. 26.
"I applied what I learned in the program long before I was an elected official," Young said. "The MPA degree is beneficial for anyone looking to work in the public sector or use public resources as part of their professional role. As for being the program lead, I have a lot to learn about this new role but believe in the program and want to help it grow on other campuses like it has here." 
Recent growth in the program, combined with the WebNet+ pilot have resulted in both short- and long-term plans for continuing to strengthen the program. 
"After the WebNet+ pilot is complete, and the logistics of content delivery are smooth, we hope some of the faculty will turn their attention to updating the curriculum," said Simone Cummings, associate dean of the Walker School.
tags:  academics, extended campus, faculty, online learning, online learning center, webnet+, little rock, master of public administration, school of business and technology, webster today,
News by Topic
Tag Categories
News by Topic
Tag Categories