Music Education Student Wins MCDA Award for Outstanding Choral Composition
Aug. 6, 2017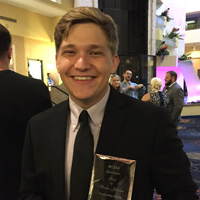 Webster University music education major Hunter Johnson is the 2017 recipient of the Opus Award from the Missouri Choral Directors Association.
The Opus Award recognizes an outstanding choral composition by a Missouri composer. Johnson won for his choral work "Stars," with poetry by St. Louis native Sara Teasdale.
Johnson, a Presidential Scholar from Orlando, Florida, wrote the work after moving to Missouri to pursue the Bachelor of Music Education degree at Webster.
"I am unbelievably humbled to be recognized by such an extraordinary organization," Johnson said. "'Stars' is truly a piece born in Missouri after seeing the St. Louis night sky for the first time."
"Stars" received its premiere in October 2016, in a performance by Webster University Chamber Singers, conducted by Trent A. Patterson, director of Choral Studies in Webster University's Department of Music. "Both singers and audiences really connect with the atmospheric and emotional quality of Hunter's choral compositions!" Patterson said. "We are overjoyed that MCDA chose to recognize this promising young talent."
(Listen to a recording of the piece below.)
"I chose Webster University because of the opportunity to study choral music education and composition, two things about which I am most passionate," noted Johnson. "While my academic focus is music education, I'm soaking up as much composition study and activity as I can."
"Hunter will soon be a third-year student," said Jeffrey Carter, chair of the Department of Music in Webster's Leigh Gerdine College of Fine Arts. "He's a rare kid, equally at home in performance and in the classroom, active as a composer, beloved by his classmates, showing clear signs of setting the choral music world on fire. 'Stars' is his third choral work to be performed by a Webster choir; he's had solo songs on voice recitals as well. And I'm personally delighted that he is now recognized by MCDA 19 years after I myself was the first recipient of the MCDA Opus Award."
tags:  academics, college of fine arts, school of education, students, department of music, presidential scholars, webster life, webster today,
News by Topic
Tag Categories
News by Topic
Tag Categories