Webster Students, Faculty Mentors attend 31st National Conference on Undergraduate Research
Apr. 25, 2017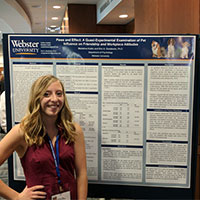 Eleven students along with their faculty mentors from Webster University's departments of Biological Sciences and Psychology attended the 31st annual National Conference on Undergraduate Research (NCUR) in Memphis, Tennessee, to present their results from several collaborative research projects. 
NCUR is dedicated to promoting undergraduate research, scholarship, and creative activity in all fields of study by sponsoring an annual conference for students. Through this annual conference, NCUR creates a unique environment for the celebration and promotion of undergraduate student achievement, provides models of exemplary research and scholarship, and helps to improve the state of undergraduate education.
"The students answered questions knowledgeably, and discussed their research with poise and confidence," said Victoria Brown-Kennerly, associate professor. "They served as excellent ambassadors for Webster University."
Brown-Kennerly and professors Ravin Kodikara, Mary Preuss, Eric Goedereis and Amanda Kracen were project mentors, and attended the conference to forge connections among the national research community and to support their student researchers.
Student presenters were selected by the Council of Undergraduate Research (CUR) through a competitive process. Their projects were funded in part by the Provost's Student-Faculty Collaborative Research Grants. 
Note: The deadline for applying for Student-Faculty Collaborative Research Grants for Summer/Fall 2017 projects has been extended to May 3. Apply here.
Conference travel was made possible in part with generous support from the College of Arts & Sciences and the Student Government Association's Student Grant Fund.
2017 NCUR Webster University Student Presenters
Oral Presentations:
Joseph Elfrink, A Common Garden Herbicide Inhibits Tunneling Behavior in Harvester Ants, faculty sponsor Victoria Brown-Kennerly
Krystal Meza, Harvester Ants - Herbicide Components Responsible for Behavioral Inhibition, faculty sponsor Victoria Brown-Kellerly
Afton Nelson and Hannah Rowold, "Oh My Goodness I've Found My Calling:" A Qualitative Study of Career Development of Psychologists Working in Cancer Care, faculty sponsor Amanda Kracen
Sarah Kurzu, Re-examining the Cookie Cutter College Kid: A Comparison of Student Populations, faculty sponsor Eric Goedereis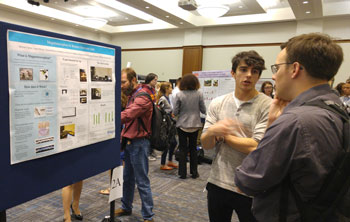 Poster Presentations:
Beltran Torres, Magnetoreception in Western Harvester Ants, faculty sponsor Ravin Kodikara
Masha Kinley, Comparative Analysis of Freshwater Microbial Diversity, faculty sponsor Mary Preuss
Madeline Kuklo, Paws and Effect: A Quasi-Experimental Examination of Pet Influence on Friendship and Workplace Attitudes, faculty sponsor Eric Goedereis
Benjamin Ingenthron, A Series of Cross-Photodimerization Reactions Utilizing Polyfluorophenyl-Phenyl Interactions, faculty sponsor Ryan Groeneman
Sarah Pringer, Adolescents and Altruism, faculty sponsor Eric Goedereis
Megan Brandt, Novel Physics Undergraduate Labs with Robotics Projects, faculty sponsor Ravin Kodikara
To learn more about Webster University's undergraduate research opportunities, including the bi-annual Research Across Disciplines (RAD) conference, please contact Goedereis at ericgoedereis18@webster.edu or 314-246-7513. 
tags:  academics, webster life, research grants, webster today, research, faculty, home page, students, office of research and sponsored programs, college of arts and sciences, biological sciences, psychology,
News by Topic
Tag Categories
News by Topic
Tag Categories