Webster Adds 11 New Online Programs to Robust Catalog
May. 22, 2017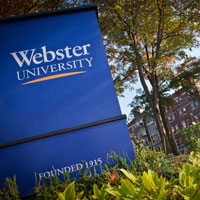 Webster University's nationally recognized online education program is expanding. The Online Learning Center has added five new master's programs, two certificates and four bachelor's programs to its extensive catalog of majors that can be earned completely online.
Students at Webster now have an online selection of 20 certificate programs, 31 graduate degrees and four undergraduate degrees. The center also offers four undergraduate completion programs.
"There continues to be a growing demand for more online programs as students look for options that offer the flexibility to pursue an education on their terms," said Michael Cottam, associate vice president of Webster's Online Learning Center. "We anticipate that we will continue to expand our catalog in the near future as the demand for online education continues to grow around the world."
The new online programs are:
Multimodal Literacy for Global Impact (master's)
Organizational Development (master's)
Public Administration (master's)
Criminal Justice (master's)
Legal Studies (master's)
Paralegal Studies (certificate)
Organizational Development (certificate)
Educational Studies (bachelor's)
General Studies (bachelor's)
Management (bachelor's)
Criminology (bachelor's)
Webster University was among the first institutions in higher education to experiment with online learning. In 1998, Webster launched the Collaborative Teaching and Learning Pilot Project, which offered five courses to students at all of Webster's European campuses and six U.S. campuses. The following year, Webster offered its first six online classes to any Webster student.
Since then, Webster has received many accolades for the quality of its online programs. Earlier this year, the program was ranked as the sixth best in the nation by AccreditedSchoolsOnline.org. Additionally, U.S. News and World Report ranked Webster's online MBA, business and education programs as among the best in the nation.
For more information about Webster's online program, visit http://www.webster.edu/online/.
tags:  academics, extended campus, online learning center, home page, provost, webster today,
News by Topic
Tag Categories
News by Topic
Tag Categories