Spring 2017 Provost Student, Faculty Collaborative Research Grant Recipients
Feb. 3, 2017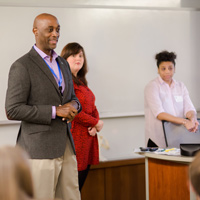 The Office of Academic Affairs would like to congratulate the recipients of the Provost Student/Faculty Collaborative Research Grant.
Now in its fourth year, the Grant Program has funded more than 80 undergraduate research and creative projects covering more than 15 academic departments. These projects lead many students to present their work at professional conferences including Webster's Research Across Disciplines (RAD) conference. Interest in research opportunities continues to grow.
"We are thrilled that the number of applications from students have doubled from previous rounds," said Julian Schuster, provost, senior vice president and chief operating officer. "It is a credit to the program, to the faculty who have encouraged their students to take part in these opportunities, and to the students who have seized the opportunity."
Spring 2017 Grant Recipients
Roshan Adhikari, An Assessment of Success, Effectiveness and Sustainability of Bangkok's Startup Community, Management with emphasis in International Business, faculty mentor Raymond Ledesma
Brandon Bandy, Documenting the Midwestern United States: The Great American Roadtrip, Photography, faculty mentor Tate Foley
Megan Brandt, Programing an Arduino based mobile robot to simulate real-world applications in physics, Mathematics, faculty mentor Ravin Kodikara
Bridget Carey, Isolate, Graphic Design, faculty mentor Tate Foley
Kayla Dye, Effect of sulforaphane on growth and viability of a human lung cancer cell line, Biology, faculty mentor Stephanie Schroeder
Maxwell Friedman, Creating the Nightmare: Conservatory Capstone Production of Eugene Ionesco's "Rhinoceros," Directing, faculty mentors Jef Awada and Doug Finlayson
Valerie Martin, Monitoring the Effects of Adjacent Bee Food and Nesting Resources on Commercial Pollination Services Using Acoustic Techniques, Biology, faculty mentor Nicole Miller-Struttmann
Rowena Messmore, The Bacterium Bacillus thuringiensis and its Bt Toxin: Affects on Non-Target Insects, Biology, faculty mentors Victoria Brown-Kinnerly and Ravin Kodikara
Ellen O'Shea, One Hundred Hands, Studio Art, faculty mentor Brian Zimmerman
Abigail Pfeiffer, Effect of Vitamin D on Insulin Release in rat pancreatic beta cells, Biology, faculty mentor Stephanie Schroeder
Stephanie Seidel, The Effects of Binaural Auditory Beats and Music on the Reduction of Stress Levels and Blood Pressure, Biology, faculty mentor Garrett Bergfeld
Galyna Sergach, Effect of Isoflavones Galic Acid and Tangeretin on Growth and Viability of Human Melanoma Cells, Biology, faculty mentor Stephanie Schroeder
Sophia Stair, Dissecting the functional components of the PIN1 promoter, an Auxin Efflux Family Carrier Protein in Arabidopsis thaliana, Biology, faculty mentor Mary Preuss
Congratulations to these grant recipients! The next Research Across Disciplines (RAD) conference is scheduled for May 5-6 at the Webster Groves campus.
tags:  academics, employee news, faculty, home page, research, college of arts and sciences, college of fine arts, school of communications, webster life, webster today, students, provost,
News by Topic
Tag Categories
News by Topic
Tag Categories