Record Number of First-Time Freshmen Enroll at Webster University
Aug. 23, 2017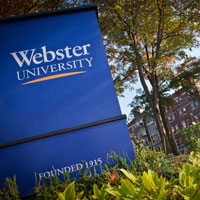 ST. LOUIS – A record number of first-time freshmen, 525, have enrolled at Webster University for the fall semester, a 21 percent increase since last year and the highest ever freshmen enrollment in Webster's history. The new students start classes on Aug. 28.
A number of factors are responsible for the surge, including changes in recruitment strategies, Webster University's early adoption of new federal financial aid rules that make it easier for students to apply for financial support, and the opening of Browning Hall, the interdisciplinary science building. Browning Hall was completed on Aug. 18.
"This increase is the culmination of efforts across the entire university, from outreach to prospective students to enhancing the superior academics offered in the classroom," President Elizabeth (Beth) Stroble said. "The University has added numerous new programs and generous scholarships intended to meet the community's needs, and we are glad students are responding positively to those efforts."
Every school and college at Webster University has seen an increase in first-time freshmen this year. The school with the largest number of freshmen is the School of Communications, with 136 first-time students enrolled, an increase of 24 from last year. The George Herbert Walker School of Business & Technology increased by 19, the College of Arts & Sciences grew by 38, the Leigh Gerdine College of Fine Arts added 1, and the School of Education grew by 1.
Academic departments experiencing increases in freshmen enrollment include the Department of Psychology (+36), Communications and Journalism (+14), Electronic and Photographic Media (+10) and the Department of Biology (+22). Both Psychology and Biology are programs located in the recently opened Browning Hall. The Department of International Human Rights and Humanitarian Studies, also located in Browning Hall, had an increase of four freshmen.
The average GPA of the incoming students is 3.5, and the average ACT score is 24. The class is also more diverse, with more students self-identifying as an ethnic minority (+20). Additionally, fewer of them have entered Webster University as an "undeclared major" (-10).
"We have attracted more qualified and diverse undergraduates who have a stronger determination for their future career paths," said Julian Z. Schuster, Webster University's provost, senior vice president and chief operating officer. "We have researched what students are looking for in higher education and are responding to those needs and making sure we have the financial tools and academic resources available to make Webster University a successful experience for them."
Other enrollment numbers are still being analyzed, as students at all of Webster's locations around the world still have time to add or drop classes for the first and second Fall 2017 sessions. Complete enrollment numbers for all Webster students will not be available until later this fall.  
With its home campus in St. Louis, Missouri, USA, Webster University (www.webster.edu) comprises an action-oriented global network of faculty, staff, students and alumni who forge powerful bonds with each other and with their communities around the globe. Founded in 1915, Webster is a private non-profit university with nearly 16,000 students studying at campus locations in North America, Europe, Asia and Africa and in a robust learning environment online. The university is committed to ensuring high-quality learning experiences that transform students for global citizenship and individual excellence.
tags:  academics, home page, president, provost, webster today,
News by Topic
Tag Categories
News by Topic
Tag Categories